Tuesday, July 23rd, 2013
Rockstar Energy Presents: A Day To Remember's "House Party Tour" with All Time Low & Pierce The Veil, play Mohegan Sun Arena on October 9th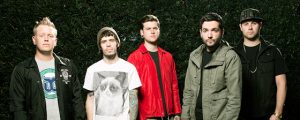 A Day To Remember announced their fall U.S. tour this morning.  The "House Party Tour" will feature ADTR along with All Time Low and Pierce The Veil supporting on all dates. The tour hits Mohegan Sun Arena on Wednesday, October 9th at 6:45pm.
Tickets are $34.50 and are sale now through Ticketmaster.  Ticketmaster customers may log on to ticketmaster.com; call any Ticketmaster Charge by Phone number; 1.800.745.3000 or visit any Ticketmaster outlet.  Tickets may also be purchased at the Mohegan Sun Box Office, subject to availability.
For details about VIP packages, visit: www.adtr.com.
"This will be the biggest and baddest show that A Day To Remember has ever done, remarked lead singer Jeremy McKinnon.  "I'm excited to see the awesome bands we're touring with and am stoked on pulling off this show we're gonna do!"
The band's last album What Separates Me From You was a major breakthrough for A Day To Remember. Upon its release the album debuted at #11 on the Billboard Top 200 Albums chart and has now sold over 300,000 units. A Day To Remember's entire catalog is now well over a million units combined.
Earlier this year, the band posted a brand new track "Violence (Enough Is Enough)" on their website to rave reviews from their loyal and die-hard fans.
Since their formation in 2003, Ocala, Florida's A Day To Remember have grown from a small band with a dedicated local fan-base into a worldwide phenomenon, gaining the respect and adoration from their peers as much as their fans. This hasn't been an overnight success story – A Day To Remember have worked hard to win over every fan they've made. Over the course of four albums, the band has sold out entire continental tours, landed two Top 25 Billboard debuts and topped the Billboard Indie Albums Chart. This upcoming fall tour will be the biggest venues the band have played in the U.S. to date.
Mohegan Sun Arena is ranked 3rd in the U.S. and 5th in the world by Billboard Magazine and was the 2008 and 2010 recipient of a Country Music Award for "Casino of The Year."  Venues Today also ranked Mohegan Sun Arena #4 in 2011 and ranked in the top six of "Top Stops of The Decade" in 2012. For more information on concerts and other great events at Mohegan Sun, visit mohegansun.com. For information on this week's schedule, call the Entertainment and Special Events hotline at 1.888.226.7711, ext. 27163.