Monday, July 7th, 2014
Will feature headliners Godsmack along with Skillet, Pop Evil with These Raven Skies and Tattered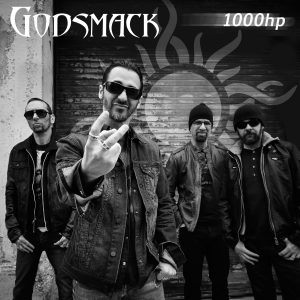 The Rockstar Energy UPROAR Festival kicks off year five on August 15th with a powerful lineup that includes multi-platinum mainstage bands Godsmack along with Skillet, Pop Evil, These Raven Skies and Tattered. The 2014 Rockstar Energy UPROAR festival hits Mohegan Sun Arena for a 7:00pm show on Wednesday, August 20th.
Tickets for the Rockstar Energy UPROAR Festival are $41.00 and go on sale on Friday, July 11th at 10:00am and can be purchased on Ticketmaster.com, by visiting the Mohegan Sun Box Office, or http://www.RockstarUPROAR.com. Ticketmaster customers may log on to ticketmaster.com; call Ticketmaster's national toll free Charge By Phone number 1.800.745.3000; or visit any Ticketmaster outlet. Tickets will also be available at the Mohegan Sun Box Office starting Saturday, July 12th subject to availability. More details are available at mohegansun.com/entertainment as well.
For the first 72 hours after tickets go on sale, Godsmack and the Rockstar Energy UPROAR Festival are offering a ticket upgrade option exclusively through Ticketmaster. During this time period, those who buy a ticket for the festival via www.RockstarUPROAR.com can also pre-order the new Godsmack digital album 1000hp (out August 5th) for only $7.99, and will receive Godsmack's brand new "1000hp" single as an early track.
21st century Hard Rock titans Godsmack have sold over 20 million records worldwide. The band's new smash single "1000hp" recently debuted at #1 on the iTunes Rock chart and was already Top 10 on the Active Rock radio chart in its first week. Godsmack will release their sixth full length album 1000hp on August 5th. Frontman and founder Sully Erna says, "UPROAR Festival has been a long part of Godsmack's history; we can't wait to get out with some of our longtime friends and play our new music for our fans."
Check out a promo video for the Rockstar Energy UPROAR Festival which includes an appearance from Sully Erna from Godsmack here: http://youtu.be/G3h3Guru50Q.
The Rockstar Energy UPROAR Festival will entertain fans for a full afternoon and evening, with performances from the hottest Rock bands on the UPROAR Main Stage and Festival Stage, along with a concourse midway featuring band autograph signings, vendors and other activities.
Since its inception in 2010, the Rockstar Energy UPROAR Festival continues to receive widespread praise from the media. Here's a sample of what the press have said:
"One of the most anticipated tours of the summer for Rock fans"
–Mary Ouellette, Loudwire.com, August 13, 2013
"A juggernaut of a summer tour illuminating that Rock 'n' Roll is alive and well"
–Rick Florino, ARTISTdirect.com, September 19, 2013
"the best tour of the year"
–Brandon Veal, Examiner.com, September 19, 2012
"a dream lineup for Hard Rock fans"
–Paige Montgomery, Denver Post, October 6, 2011
"one of the most electric tours of the year"
–Revolver, September/October 2010
Mohegan Sun Arena is now ranked consistently among the top venues in the world according to Billboard Magazine, Pollstar and Venues Today. It has won "Casino of The Year" at the Country Music Awards in 2008 & 2010 and in 2013, was voted "Arena Of The Year" at the G2E Global Gaming Conference in Las Vegas. Also in 2013, Mohegan Sun won "Casino of The Year" in 2 categories at the Academy of Country Music Awards. For more information on concerts and other great events at Mohegan Sun, visit mohegansun.com. For information on this week's schedule, call the Entertainment and Special Events hotline at 1.888.226.7711, ext. 27163.