The Mohegan Tribal Gaming Authority (MTGA) operator of Mohegan Sun properties throughout the United States, along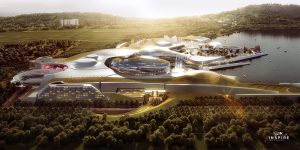 with partners KCC Corporation and Incheon International Airport Corp (IIAC) have been awarded a license from the Korean Government to develop and build a first-of-its-kind integrated resort at Incheon International Airport in Korea.
"We are pleased with the Korean Government's decision to award us the opportunity to help fulfill their vision of driving economic development by growing tourism, creating jobs, and showcasing Korean culture via the integrated resort," said Bobby Soper, President of MTGA following the decision.
"KCC is thrilled that its partnership with the Mohegan Tribal Gaming Authority has been awarded the opportunity to develop this exciting and transformative integrated resort which will be instrumental in bringing new generations of tourists to Incheon," said KCC Chairman Chung Mong-Jin.
Mr. Chung Il-young, CEO of the Incheon International Airport Corporation noted, "We deeply appreciate the careful review that the Korean Government has conducted on this bold new initiative for tourism in Korea. Its selection of the Inspire project at IBC-II is wonderful news for the Incheon region and will serve as a catalyst for growth in the airport development zone for years to come."
Mohegan Sun's multi-phase development project named Project Inspire is expected to include, but not be limited to the following features:
Three-tower luxury hotel complex with 1,350 five star and six star guest rooms
Over 20,000 square meters of the most sought after luxury retail brands in the world and over 20 food and beverage concepts
A 4,500 sq meters Korean cosmetics and beauty hub, promoting Korea's dominance in Asia in this area
The largest entertainment arena in South Korea with capacity for up to 15,000 attendants for Class-A acts, cultural and arena sport events that have become synonymous with Mohegan Sun properties
A Paramount Studios Themed Indoor-Outdoor amusement park with 100,000 sq. meters of the latest high-tech amusement rides
A 33,000 square meter Eco Adventure Park featuring the latest in indoor rock climbing, zip lining, an indoor rainforest, and an archaeology experience
A 20,000 square meter casino with 250 tables and 1,500 slot machines
The first and only destination resort in the world with an adjacent private air terminal (FBO)
Phase I of Project Inspire is estimated at US$1.6 billion, with a commitment total of US$5 billion over multiple phases.
Mohegan Sun is joined by Miura Holdings Asia, a multi-purpose investment vehicle focused on gaming, hotel and food & beverage activities in the United States & Asia, as part of the development team. Consummation of the conceptual agreement and development of the project is subject to  certain governmental and regulatory approvals.
ABOUT MOHEGAN TRIBAL GAMING AUTHORITY
MTGA is an instrumentality of the Mohegan Tribe of Indians of Connecticut, or the Tribe, a Native American Tribe with an approximately 544-acre reservation situated in southeastern Connecticut. MTGA has been granted the exclusive authority to conduct and regulate gaming activities on the existing reservation of the Tribe, including the operation of Mohegan Sun, a gaming and entertainment complex located on a 185-acre site on the Tribe's reservation. Through its subsidiary, Downs Racing, L.P., MTGA also owns and operates Mohegan Sun Pocono, a gaming and entertainment facility located on a 400-acre site in Plains Township, Pennsylvania. MTGA also manages Resorts Casino Hotel in Atlantic City and The Cowlitz Project in Washington. More information about MTGA and its properties can be obtained by visiting www.mohegansun.com, www.mohegansunpocono.com, www.resortsac.com, www.cowlitzcasino.com or www.mtga.com.
ABOUT INCHEON INTERNATIONAL AIRPORT CORP
Incheon Airport is one of the best airports in the world, which records 8th place in international passenger traffic and 2nd in cargo traffic. Incheon Airport rated 1st on Airport Service Quality Service conducted by ACI for 10 consecutive years. Incheon Airport is currently under 3rd phase construction which includes building a new terminal that opens 2018. More information about the Incheon Airport can be obtained by visiting www.airport.kr/eng/.
ABOUT KCC CORPORATION
KCC Corporation is a construction products company based in Korea that concentrates on developing high value-added products based on high energy efficiency and environmentally friendly technology. It produces general construction/industrial materials, paints and silicone and has built its reputation on delivering the highest quality materials nationally and internationally.