The "Masters of Madness" 2013 tour is underway and heads to Mohegan Sun on June 21st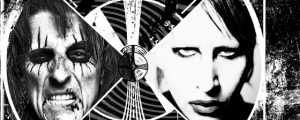 In what is obviously a "dream" pairing, or some might say a "nightmare," Alice Cooper and Marilyn Manson will be teaming up for the "Masters of Madness" tour in June. The long awaited combo heads to Mohegan Sun Arena on Friday, June 21st.
Tickets are $35.00 and go on sale Friday, March 29th through Ticketmaster at 10:00am. Ticketmaster customers may log ...