The "Masters of Madness" 2013 tour is underway and heads to Mohegan Sun on June 21st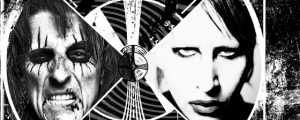 In what is obviously a "dream" pairing, or some might say a "nightmare," Alice Cooper and Marilyn Manson will be teaming up for the "Masters of Madness" tour in June. The long awaited combo heads to Mohegan Sun Arena on Friday, June 21st.
Tickets are $35.00 and go on sale Friday, March 29th through Ticketmaster at 10:00am.  Ticketmaster customers may log on to ticketmaster.com; call Ticketmaster's national toll free Charge By Phone number 1.800.745.3000; or visit any Ticketmaster outlet.  Tickets will also be available at the Mohegan Sun Box Office starting Saturday, March 30th subject to availability.  More details are available at mohegansun.com/entertainment as well.
Alice Cooper is a true Rock icon, having pioneered the use of theatrics and shocking images onstage in concerts from the earliest days of the original band of the same name. Since going solo, he has continued to produce elaborate stage shows providing fans with both shock and Rock of the hightest caliber.
Inducted into the Rock N Roll Hall of Fame in 2011, Alice has toured and recorded continuously, with his most recent album being Welcome 2 My Nightmare through Ume. Recorded with longtime collaborator Bob Ezrin, who produced the original ground breaking, multi-platinum Welcome To My Nightmare album in 1975, the album picks up right where they left off, with Alice trapped in his own warped mind.
Marilyn Manson's most recent full-length album Born Villain, his eighth overall, debuted in the Top 10 on the Billboard Top 200 Album Chart. It also grabbed the #1 spots on both the Heavy Album Chart and the Independent Album Chart.
"Born Villain is a return to form," says CNN. "A hard-rocking album, brimming with rich imagery, visceral blowback and the glamour-meets-gutter eroticism that his best work evokes." Rolling Stone has called the album some of his most "visceral and provocative tunes." Born Villain earned Manson his fourth Grammy nomination at the 2013 Grammys in the category for "Best Hard Rock/Metal Performance" for the album's lead single "No Reflection."
For more information and tour dates, go to www.alicecooper.com and www.marilynmanson.com.
Mohegan Sun Arena is ranked 3rd in the U.S. and 5th in the world by Billboard Magazine and was the 2008 and 2010 recipient of a Country Music Award for "Casino of The Year."  Venues Today also ranked Mohegan Sun Arena #4 in 2011 and ranked in the top six of "Top Stops of The Decade" in 2012. For more information on concerts and other great events at Mohegan Sun, visit mohegansun.com. For information on this week's schedule, call the Entertainment and Special Events hotline at 1.888.226.7711, ext. 27163.