Shinedown with special guests Bush & Airbourne To Perform on May 3rd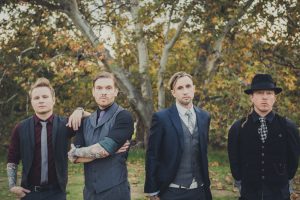 The stage is set for a trio of Rock bands to play Mohegan Sun Arena. On Friday, May 3rd, Shinedown with special guests Bush and Airbourne will be live at Mohegan Sun for a 7:00pm performance.
Tickets are $35.00 and go on sale Friday, March 29th through Ticketmaster at 10:00am.  Ticketmaster customers may log on to ticketmaster.com; call Ticketmaster's national toll free Charge By Phone number 1.800.745.3000; or visit any Ticketmaster outlet.  Tickets will also be available at the Mohegan Sun Box Office starting Saturday, March 30th subject to availability.  More details are available at mohegansun.com/entertainment as well.
"I never want people to be able to put their thumb on this band," declares Shinedown frontman Brent Smith. "I never want anyone to know what we're going to do musically. I want them to be shocked. I want them to be think, 'They did it again. They surprised me.' We like that. We like to challenge our audience."
When Smith laid down the gauntlet, it set the tone for the recording of Shinedown's fourth full-length album — the bruising, unapologetic, and totally kinetic Amaryllis. With unflinchingly honest, unrepentant songs like first single "Bully" and "I'm Not All Right," as well as the deeply moving "Miracle" and the soulful love song "I'll Follow You," Amaryllis delivers on its mission statement throughout its 12 tracks: "It's not a record for the faint of heart," Smith admits. "Every single song makes a statement. I was looking for the kind of emotion that made every hair on the back of my neck stand on end. Because of that, I feel in my heart and soul that this album is a game changer for our band."
With all the success Shinedown has had since Smith and drummer Barry Kerch formed the band in 2001, one could understand if its members just wanted to rest on their laurels. Shinedown is indisputably one of the fastest-rising rock acts of the last 10 years, beginning its assault on Rock radio with 2003's platinum debut Leave A Whisper and the 2005 gold follow-up Us and Them. Together, both albums yielded seven Top 5 radio hits, including "Fly From the Inside," "45," a cover of Lynyrd Skynyrd's "Simple Man," "Burning Bright," "Heroes," "I Dare You" and the #1 blockbuster, "Save Me," which dominated Active Rock radio for 12 consecutive weeks.
The headline of the Billboard article said it all: "Like They Never Left." The story, which ran in the October 29, 2011 issue, hailed the return of mega-platinum Rock band BUSH, who had just self-released The Sea of Memories, their first album in 10 years and wasted no time returning to the top of the charts. In fact, they did it in grand style: the album's lead single, "The Sound of Winter," made Rock radio history by becoming the first self-released song ever to hit #1 at Alternative Radio. "The Sound of Winter" also holds the distinction of being the reunited group's first #1 single since 1999's chart-topping hit, "The Chemicals Between Us."
Australian Rock band Airbourne was formed in 2003 and has since gone on to record multiple hit records. Their 2010 album Not Guts. No Glory reached the top 20 on the ARIA Albums Chart, and top 20 on albums charts in Austria, New Zealand, Finland, Greece, Sweden and Switzerland. Airbournes next album, Black Dog Barking, is due out in May via Roadrunner Records.
Mohegan Sun Arena is ranked 3rd in the U.S. and 5th in the world by Billboard Magazine and was the 2008 and 2010 recipient of a Country Music Award for "Casino of The Year."  Venues Today also ranked Mohegan Sun Arena #4 in 2011 and ranked in the top six of "Top Stops of The Decade" in 2012. For more information on concerts and other great events at Mohegan Sun, visit mohegansun.com. For information on this week's schedule, call the Entertainment and Special Events hotline at 1.888.226.7711, ext. 27163.