Live in concert on August 24th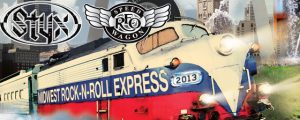 Decades of timeless Rock music will be in full force on Saturday, August 24th when Styx & REO Speedwagon bring their Midwest Rock-N-Roll Express Tour to Mohegan Sun Arena for a 7:30pm performance!
Tickets are $35.00 and go on sale Friday, May 3rd through Ticketmaster at 10:00am.  Ticketmaster customers may log on to ticketmaster.com; call Ticketmaster's national toll free Charge By Phone number 1.800.745.3000; or visit any Ticketmaster outlet.  Tickets will also be available at the Mohegan Sun Box Office starting Saturday, May 4th, subject to availability. More details available at mohegansun.com/entertainment also.
STYX – Tommy Shaw, James "JY" Young, Lawrence Gowan, Todd Sucherman and Ricky Phillips (along with the occasional surprise appearance by original bassist Chuck Panozzo), have performed more live since '99 than all of the previous years of its career combined.  Two Super-Bowl appearances, Pollstar Box Office chart-topping tours with Def Leppard, Journey, Boston, REO Speedwagon, Bad Company (to name only a few), two more studio albums and no end in sight, STYX continues to conquer the planet, one venue at a time.
Spawned from a suburban Chicago basement in the early '70s, Styx would eventually transform into the virtual Arena Rock prototype by the late '70s and early '80s, due to a fondness for big rockers and soaring power ballads.
By the early '70s, REO Speedwagon's unrelenting drive, as well as non-stop touring and recording, jump started the burgeoning Rock movement in the Midwest. It carved a path that was eventually followed by STYX, Kansas, Cheap Trick and more.  Platinum albums and freeform FM radio staples such as "Ridin' The Storm Out" followed, setting the stage for 1980's explosive Hi Infidelity. REO rode the top of the charts with a RIAA-certified 22 million albums sold in the U.S. and 40 million around the globe, with a string of gold and platinum records and international hit singles.
Even now, fully established with songs on the radio in every city and town they ever set foot in, REO Speedwagon still has that Midwest work ethic. The band has gone on stage and in the studio to work- dozens of albums, thousands of concerts, and countless radio spins. Their eyes have always been on the future and on the road – not a year has gone by where REO Speedwagon didn't perform live, thrilling fans with hit filled sets.
Mohegan Sun Arena is ranked 3rd in the U.S. and 5th in the world by Billboard Magazine and was the 2008 and 2010 recipient of a Country Music Award for "Casino of The Year."  Venues Today also ranked Mohegan Sun Arena #4 in 2011 and ranked in the top six of "Top Stops of The Decade" in 2012. For more information on concerts and other great events at Mohegan Sun, visit mohegansun.com. For information on this week's schedule, call the Entertainment and Special Events hotline at 1.888.226.7711, ext. 27163.