The Irish musical ensemble to perform at Mohegan Sun on November 30th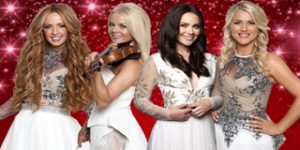 Celtic Woman are returning to Mohegan Sun for a special Christmas themed concert on Saturday, November 30th, starting at 8:00pm.
Tickets are $35.00 and go on sale Friday, September 27th at 10:00am through Ticketmaster.  Ticketmaster customers may log on to ticketmaster.com; call any Ticketmaster Charge by Phone number; 1.800.745.3000 or visit any Ticketmaster outlet.  Tickets may also be purchased at the Mohegan Sun Box Office starting Saturday, September 28th subject to availability.
Celtic Woman Home For Christmas – The Symphony Tour Celebrate this holiday season with the celestial voices of multi-platinum Irish singing sensation Celtic Woman as they present Home For Christmas – The Symphony Tour. Featuring music from the all-female music ensemble's second Christmas album, Home For Christmas, including holiday favorites "I'll Be Home for Christmas" and  "Silent Night". Celtic Woman and Home For Christmas – The Symphony Tour, will promise an enchanting and festive evening filled with mesmerizing music, performance and holiday cheer.
Since its formation in 2004, Celtic Woman has emerged as both a spectacular commercial success and a global cultural phenomenon. The group's uplifting mix of timeless tradition and contemporary craft has transcended national and cultural borders to touch the hearts of a devoted international fan base, who've embraced Celtic Woman's hugely successful Public Television specials and made their CDs and DVDs into multi-platinum best-sellers. The group's albums have sold more than seven million copies around the world. Like all of their albums, Celtic Woman's two 2012 releases, the acclaimed Believe CD/DVD and the Holiday-themed CD Home For Christmas both debuted at # 1 on Billboard's World Music chart  – marking eight consecutive chart-topping albums for the group.

Having sold nearly 3 million concert tickets worldwide, Celtic Woman has won a dedicated and loyal audience in America, where their elaborately staged, visually stunning concert tours consistently draw sellout crowds. Singing songs of love, loss, hope and inspiration, Celtic Woman celebrates the emotional resonance of Ireland's centuries-old musical and cultural heritage while taking advantage of the limitless options of state-of-the-art production. The result is a breathtaking musical and theatrical experience to be enjoyed by multiple generations of concert goers.
Mohegan Sun Arena is ranked 3rd in the U.S. and 5th in the world by Billboard Magazine and was the 2008 and 2010 recipient of a Country Music Award for "Casino of The Year." Venues Today also ranked Mohegan Sun Arena #3 in 2012 and ranked it in the top six of "Top Stops of The Decade" in 2012. Venues Today also named Mohegan Sun Arena #4 in mid-year Top Stops for 2013.For more information on concerts and other great events at Mohegan Sun, visit mohegansun.com. For information on this week's schedule, call the Entertainment and Special Events hotline at 1.888.226.7711, ext. 27163.