At nearly half-a-million tickets sold for 2014, 10,000-seat Arena in Uncasville, CT continues to be ranked with big city & high profile venues across the globe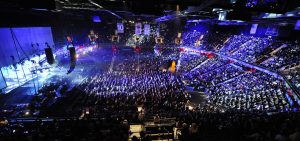 National industry trade publications, Pollstar Magazine, Billboard Magazine and Venues Today recently released their 2014 Year End Special issues, which reports the top selling tours and top venues across the globe, and all have ranked Mohegan Sun Arena among the top concert venues in the world. With one of the most successful years it's seen, Mohegan Sun Arena sold nearly half-a-million concert tickets in 2014, making the venue the 26th ranked concert stop worldwide and 8th nationally for all size venues, beating last year's Pollstar finish of #52 worldwide and #23 nationally.
With the finish of 8th overall and 3rd for its size nationwide, the Uncasville venue places itself in the company of arenas like The Staples Center in Los Angeles, CA, Barclays Center in Brooklyn, Philips Arena in Atlanta, The Verizon Center in Washington, D.C. and Madison Square Garden in New York, NY,  all of which have capacities of over 15,000. Mohegan Sun Arena also finishes #1 for all of New England in Pollstar's 2014 ranks.
The Arena has also received high praise from trade publication Billboard Magazine as one of the top venues of the decade so far and for 2014 the Arena finished at #4 in the world and #3 in the USA for its size (5,000-10,000) in total gross from concert ticket sales.
"The product we produce is fun.  Not just from the artists, but from our talented team who provide such a wonderful guest experience that will last a lifetime. How cool is that?" said Senior VP of Sports & Entertainment for Mohegan Sun properties, Tom Cantone. "Our idea was always to make Mohegan Sun Arena as popular as the stars who play it. I think our entertainment program has reached that goal of making this venue an institution."
Last year saw Mohegan Sun welcome Bruce Springsteen for the first time for a 2-night stay that closed out the highly touted High Hopes tour. Mohegan Sun Arena played host to multiple other sell-outs in 2014 including Justin Timberlake, Jay-Z, Cher, Lady Gaga, Katy Perry, Michael Bublé and Luke Bryan. All of whom are in the top 20 of worldwide touring acts ranked for 2014 in Pollstar.
As one of the busiest arenas in the nation, last year, more people attended concerts at Mohegan Sun Arena than visited Monticello, Glacier Bay National Park and the same amount as visited the Rock and Roll Hall of Fame.
The 2015 calendar is heating up as well and already consists of such artists and bands as: Fleetwood Mac on February 7th, Florida Georgia Line on February 21st, Neil Diamond on March 13th, Ariana Grande on March 14th, Miranda Lambert on April 11th, Kevin Hart on April 18th, Kenny Chesney on April 24th & 25th, The Who on May 24th, New Kids on the Block on June 12th, Shawn Mendes on June 7th, Train on June 21st and Mötley Crüe on August 16th.  More information on these concerts and more can be found at Mohegan Sun!
Mohegan Sun Arena is now ranked consistently among the top venues in the world according to Billboard Magazine, Pollstar and Venues Today. It has won "Casino of The Year" at the Country Music Awards in 2008 & 2010 and in 2013, was voted "Arena Of The Year" at the G2E Global Gaming Conference in Las Vegas. Also in 2013, Mohegan Sun won "Casino of The Year" in 2 categories at the Academy of Country Music Awards. For more information on concerts and other great events visit Mohegan Sun. For information on this week's schedule, call the Entertainment and Special Events hotline at 1.888.226.7711, ext. 27163.