Mohegan Sun Arena to host tour on June 25th; Autobiography Fortunate Son set for release October 6th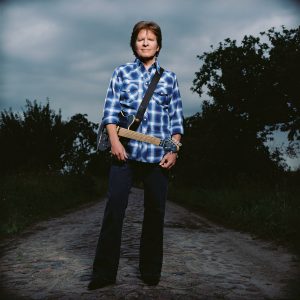 Beginning May 2nd, John Fogerty's highly-anticipated worldwide "1969" tour will launch its U.S. dates with a special appearance, May 2nd, at the Beale Street Music Festival.  Newly announced dates include stops in Hawaii, Baltimore, NY, Philly, Cleveland, Chicago, Seattle, Denver and Uncasville, CT for a Thursday, June 25th concert.  The U.S. portion of the "1969" tour is set to conclude on August 9th in Albuquerque.  Mohegan Sun Arena's concert is set for 7:30pm, and the CCR frontman will be playing treasured classics like "Fortunate Son," "Proud Mary" and so many more from his catalogue of other all-time hits.
Tickets are $44.50 and go on sale Friday, April 3rd through Ticketmaster at 10:00am.  Ticketmaster customers may log on to ticketmaster.com; call Ticketmaster's national toll free Charge By Phone number 1.800.745.3000; or visit any Ticketmaster outlet.  Tickets will also be available at the Mohegan Sun Box Office starting Saturday, April 4th, subject to availability.
And, coming October 6, 2015, from Little, Brown and Company, is the long-anticipated memoir by John Fogerty, titled FORTUNATE SON: My Life, My Music. With John Fogerty writing hit after hit, Creedence Clearwater Revival burst on the music scene with an energy so bright, his songs outsold The Beatles in 1969. Then, just as quickly, that CCR fire burned out in a series of internal band struggles that left the music world without the influence of one of its brightest stars for over two decades.
"I'm excited to share my story and my life with you," said Fogerty.  "You're going to hear where it all started, my passion to become the best musician I could be.  You'll travel down some rough roads, but that road leads to something beautiful.  My book won't be sugar coated!  It's all in there."
Creedence Clearwater Revival is one of the most important and beloved bands in the history of Rock 'n Roll, and the story that John Fogerty's memoir tells will keep music lovers and avid readers captivated.  Fogerty wrote, sang and produced the iconic classics "Born on the Bayou," "Proud Mary," "Bad Moon Rising" and so many more. Now he reveals how he brought CCR to the top of the charts and how, one year later, CCR was falling apart. Their amazing talents and culturally-prophetic songs, however, have endured for decades despite the series of personal and legal issues. FORTUNATE SON takes readers from Fogerty's northern California roots, through Creedence's success, his retreat from music and public life, to Fogerty's hard-won revival as a solo artist who finally, through it all, found love.
John Fogerty was songwriter, lead singer and lead guitarist for Creedence Clearwater Revival and is one of Rock's most influential musicians and writers. Fogerty has been named one of the 100 Greatest Singers and one of the 100 Greatest Guitarists by Rolling Stone and his most recent album was named one of RS's 10 Best Albums of 2013.

To Pre-Order the book, please visit:
Barnes & Noble:
http://www.barnesandnoble.com/w/fortunate-son-john-fogerty/1121149654?ean=9780316244572
Amazon:
http://www.amazon.com/Fortunate-Son-My-Life-Music/dp/0316244570/ref=sr_1_1?ie=UTF8&qid=1426705831&sr=8-1&keywords=fortunate+son+john+fogerty
Mohegan Sun Arena is now ranked consistently among the top venues in the world according to Billboard Magazine, Pollstar and Venues Today. It has won "Casino of The Year" at the Country Music Awards in 2008 & 2010 and in 2013, was voted "Arena Of The Year" at the G2E Global Gaming Conference in Las Vegas. Also in 2013, Mohegan Sun won "Casino of The Year" in 2 categories at the Academy of Country Music Awards.  Mohegan Sun Arena was also ranked among the top 10 Arena venues in the world for 2014, regardless of size. For more information on concerts and other great events, visit Mohegan Sun. For information on this week's schedule, call the Entertainment and Special Events hotline at 1.888.226.7711, ext. 27163.