Tickets on-sale Friday, May 1st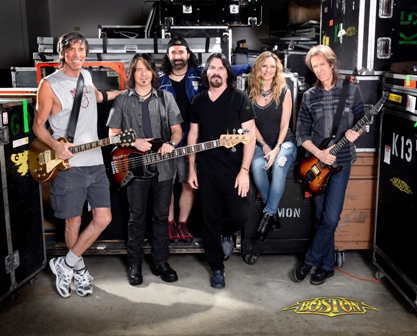 UNCASVILLE, CT (April 27, 2015) – This summer, Tom Scholz' BOSTON will be returning to Mohegan Sun for a highly anticipated concert slated for Thursday, August 13th. Mohegan Sun Arena is excited for another great night of Rock when one of the all-time bands of our time heads back to Uncasville, CT. It all kicks off at 7:30pm.
Tickets are $49.50 and go on sale Friday, May 8th through Ticketmaster at 10:00am. Ticketmaster customers may log on to ticketmaster.com; call Ticketmaster's national toll free Charge By Phone number 1.800.745.3000; or visit any Ticketmaster outlet. Tickets will also be available at the Mohegan Sun Box Office starting Saturday, May 9th subject to availability.
BOSTON is always a huge crowd pleaser with their high-energy stage show, out-of-this-world sound and remarkable musicianship and singing. BOSTON prides itself on performing a totally live show without the use of prerecorded music or technical enhancements, delivering the extraordinary sound that is faithful to their studio recordings.
BOSTON became an iconic Classic Rock fixture when they joined the music scene with their self-titled album in 1976. With over 17 million copies sold, Boston generated hits such as "More Than a Feeling," "Peace of Mind." and "Smokin'," Rock staples that are still in heavy rotation today. Their second album, Don't Look Back was another chart-topper that confirmed their place in Rock history, followed by Third Stage, which hit #1 on the charts, with the top single of 1986, "Amanda." With over 31 million albums sold to date, BOSTON has stood the test of time, as evidenced by live audiences that span generations.
Fans can expect to hear all the classic songs they have grown to love, and will be treated to some new additions to their set list based on recent requests. Concert goers will be treated to wild Hammond organ work, soaring harmony guitars and exceptional vocal arrangements, as well as BOSTON's unique visual stage presentation and plenty of extra-terrestrial sounds heard nowhere else on Earth.
The lineup for BOSON 2015 is:
Tom Scholz • Lead and Rhythm Guitar, Keyboards, Backing Vocals
Tracy Ferrie • Bass Guitar, Backing Vocals
Jeff Neal • Drums, Percussion, Backing Vocals
Tommy DeCarlo • Lead Vocals, Keyboards, Percussion
Beth Cohen • Keyboards, Vocals, Rhythm Guitar
Gary Pihl • Rhythm and Lead Guitar, Keyboards, Backing Vocals
For the latest confirmed tour dates, visit the official website: bandboston.com
To receive updated tour information and interact with BOSTON fans, please join our Facebook page at Facebook.com/BandBOSTON
Mohegan Sun Arena is now ranked consistently among the top venues in the world according to Billboard Magazine, Pollstar and Venues Today. It has won "Casino of The Year" at the Country Music Awards in 2008 & 2010 and in 2013, was voted "Arena Of The Year" at the G2E Global Gaming Conference in Las Vegas. Also in 2013, Mohegan Sun won "Casino of The Year" in 2 categories at the Academy of Country Music Awards. Mohegan Sun Arena was also ranked among the top 10 Arena venues in the nation for 2014, regardless of size. For more information on concerts and other great events, visit Mohegan Sun. For information on this week's schedule, call the Entertainment and Special Events hotline at 1.888.226.7711, ext. 27163.