A re-designed luxury food & beverage experience, Thirty Three, is also set to open on the thirty-third floor; Aspire guests to have exclusive access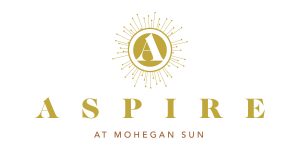 UNCASVILLE, CT (July 11, 2018) –The iconic Sky Tower will soon be rolling out an enhanced & luxurious experience for hotel guests when Aspire at Mohegan Sun opens up by the end of the year. The new "hotel within a hotel" in the 1,200-room Sky Tower, will be on floors thirty-one through thirty-six, and allow its guests to take advantage of exclusive access to a fully remodeled luxury food & drink experience entitled, Thirty Three, in reference to its location on the 33rd floor, overlooking the Thames River. Various additional perks await Aspire hotel guests including private check-in, exclusive elevator access and butler service.
"Aspire & Thirty Three will become two of the most opulent experiences Mohegan Sun offers our hotel guests. From the moment Aspire guests arrive to the moment they check-out, they receive VIP treatment, exclusive access and a truly personalized visit. We're thrilled to launch this offering at the end of the year." – President & General Manager of Mohegan Sun, Ray Pineault.
Thirty Three will showcase modern designs & interior and a sky-high New England view atop Mohegan Sun. Aspire guests will have access to the new space, where delicious food options, wide screen TVs, private table games and a complimentary bar await. Additionally, Aspire guests will have a private hotel arrival experience at Aquai, access to a private elevator bay and upgraded furnishings in their room or suite, as well as their own butler service. In total, Aspire accounts for 93 rooms on the top floors of Sky Tower.
Since opening the doors to its flagship property in Connecticut in 1996, Mohegan Sun grew quickly into one of the Western hemisphere's premier integrated casino & entertainment destinations, delivering unforgettable experiences to millions of visitors each year. From dining and shopping, to professional sporting events and endless entertainment, the brand's commitment to provide new and exciting offerings translated into more than 50 dining restaurants, bars and lounges; a full retail shopping concourse; two lavish spas; an 18-hole golf course; three high-energy entertainment venues and a recently opened, 250,000 square-foot, Earth Expo & Convention Center.
To learn about Aspire at Mohegan Sun and more about the all-encompassing resort property in Uncasville, Connecticut, visit MoheganSun.com or check out the brand's Facebook, Twitter, YouTube and Instagram pages.
###