The Eastern Connecticut Conference gets its own "Run to the Sun" when the ECC Division title games come to Mohegan Sun; Tickets on-sale January 28th
UNCASVILLE, CT (January 9, 2019) – The high school basketball season in Eastern Connecticut is shaping up to produce another thrilling tournament season and along with the CIAC State Finals that arrive in mid-March, Mohegan Sun Arena will be hosting the Eastern Connecticut Conference High School Basketball Championship Games for the first time, on February 26th. The ECC is home to standout athlete's, Dev Ostrowski of East Lyme, JJ Brennan of Waterford, Chase Anderson of Bacon Academy, Ken Turner of Ledyard & Max Lee of St. Bernard and many more, all looking to lead their teams to the conference title and beyond.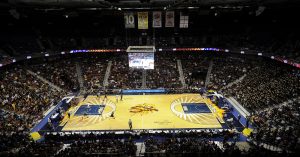 When / Where: Tuesday, February 26, 2019 at Mohegan Sun Arena, 6:00pm (Division II) & 8:00pm (Division II) | 1 Mohegan Sun Blvd, Uncasville, CT 06382
Tickets: Tickets are $10.00 and are valid for the full two-game session. Advance tickets go on-sale Monday, January 28th at 10:00am via Ticketmaster.com or by calling Ticketmaster's national toll free Charge By Phone number 1.800.745.3000.  Tickets will also be available at the Mohegan Sun Box Office at 10:00am on January 28th.
"This is a chance to take advantage of a world-class facility and give the kids a once-in-a-lifetime experience." Said Jim Buonocore, Ledyard Athletic Director & ECC Chair. "It's a testament to the quality of programs we have in the league. We can't thank Tom [Cantone] and Mohegan Sun enough for this opportunity."
"We are always excited to host sporting events," Mohegan Sun VP of Sports & Entertainment, Tom Cantone said. "This is a great way to get the local community together in a fun, competitive spirit in a popular venue."
The ECC featured three divisions last year, from which two conference tournaments took place, with Waterford & St. Bernard's taking home titles. The ECC was restructured to four total divisions for the 2018-2019 season, and tournament play will now consist of all Division I & II schools battling it out for the title, with the same taking place for Division III & IV. Both championship games at Mohegan Sun Arena will also be streamed live on TheDay.com.
The ECC has a storied athletic history, and high school basketball is certainly a notable category. From the 1980s to present, the conference has produced the likes of Harold Pressley (St. Bernard High School, Villanova, Sacramento Kings), Tyson Wheeler (New London High School, University of Rhode Island), Sam Cheung (Waterford High School, Coast Guard Academy), Alex Jensen (Stonington High School, University of Vermont), Mark Jones (NFA, University of Dayton), Kris Dunn (New London High School, Providence College, Chicago Bulls) and Mike Buscetto, (Waterford High School, SNHU). In recent years, the ECC has further entrenched itself as one of the best high school basketball conferences in New England, with incredible talent and exhilarating, packed crowds, often reaching the thousands for rivalry & tournament based games.
ABOUT ECC: The Eastern Connecticut Conference (ECC) is an interscholastic athletic league made up of 18 member high schools, whose geographical footprint reaches from the Massachusetts border to the Long Island Sound and from the Rhode Island border to just east of the Connecticut River. The league sponsors 29 sports throughout the school year with each sport culminating in a league championship.  Nearly 5000 student-athletes compete yearly in the ECC.  The ECC is a league steeped in history, producing countless CIAC State Champions.  The league continues to be on the forefront of high school athletics in the state of Connecticut and is positioned to continue as a leader for years to come.
ABOUT MOHEGAN SUN ARENA: Mohegan Sun Arena is now ranked consistently among the top venues in the world according to Billboard Magazine, Pollstar and Venues Today. It has won "Casino of The Year" at the Country Music Awards in 2008 & 2010 and in 2013, was voted "Arena Of The Year" at the G2E Global Gaming Conference in Las Vegas.  Mohegan Sun Arena was also ranked among the top 10 arena venues in the nation for 2014, regardless of size. In 2015, Mohegan Sun took home the IEBA award for "Casino of the Year."  Mohegan Sun also won "Casino of the Year" in 2 categories at the 2013 & 2016 Academy of Country Music Awards. For more information on concerts and other great events, visit Mohegan Sun. For information on this week's schedule, call the Entertainment and Special Events hotline at 1.888.226.7711, ext. 27163.