Live on Friday, August 9th; Tickets on sale Saturday, February 23rd with special guest EBEN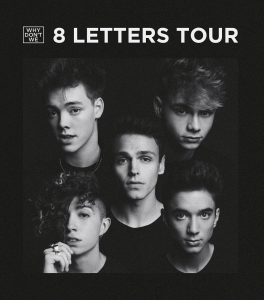 UNCASVILLE, CT (February 21, 2019) – Since their formation in 2016, Why Don't We haven't stopped.  The five young men, Jonah Marais, Corbyn Besson, Daniel Seavey, Jack Avery and Zach Herron, amassed a diehard fan base through grassroots engagement in the digital arena fueled by a prolific outpouring of new music, constant social media engagement and sold – out cross country tours.  Hitting the road this upcoming summer, the 8 Letters Tour comes to Mohegan Sun Arena on Friday, August 9th at 7:00pm with special guest EBEN.
Tickets are $49.00 and $39.00 and go on sale Saturday, February 23rd at 10:00am through Ticketmaster. Ticketmaster customers may log on to Ticketmaster.com or call Ticketmaster's national toll free Charge By Phone number 1.800.745.3000.  Tickets will also be available at the Mohegan Sun Box Office beginning on Sunday, February 24th, subject to availability.
Prior to coming together, each member stood out as a performer in his own right.  Jonah and Corbyn often livestreamed in – home performances to massive audience as Zach served up viral covers that generated tens of millions of views.  Jack built a growing subscriber base on YouTube and Daniel etched a space in the hearts of viewers everywhere on American Idol.  They crossed paths during tours and fan engagements in the midst of these burgeoning solo careers. Soon, they found themselves on a group text where the idea of joining forces came up.  Their collective response: "Why don't we?"
The group emerged as a phenomenon, generating over 300 million YouTube views and 200 million Spotify streams during that period.  The quintet released five EPs – Only The Beginning, Something Different, Why Don't We Just, Invitation and A Why Don't We Christmas.  Along with singles such as the 2018 Ed Sheeran – penned single "Trust Fund Baby," this avalanche of music represented an unconventional approach as their audience constantly received new music at a record pace.  Why Don't We carved out a place among Pop's elite on the entire iHeart Jingle Ball tour.  They sold out their first – ever headline tour throughout North America and followed that up by selling an even bigger headliner in 2018.
This transformation into international renown resulted from a quiet grind as they angled toward superstardom the old – fashioned way – one performance at a time – whether online or on stage.
The group's full – length debut, 8 Letters, provides the soundtrack to that "great time."  Merging Pop, R&B, Hip – Hop and even Latin vibes, it reflects their ambition to "do something original and different and bridge gaps" states Zach Herron.
Mohegan Sun Arena is now ranked consistently among the top venues in the world according to Billboard Magazine, Pollstar and Venues Now.  Mohegan Sun Arena is consistently ranked among the top three "Arenas in the World for its Size" and top 15 in the "World for All Size Venues." The award – winning venue is the "#1 Casino Venue in the World," "#1 Social Media Venue in the World" and a seven – time national award – winner for "Arena of the Year."  For more information on concerts and other great events, visit Mohegan Sun. For information on this week's schedule, call the Entertainment and Special Events hotline at 1.888.226.7711.