Irish-Inspired Specials & Celebrations to Take Place Across Property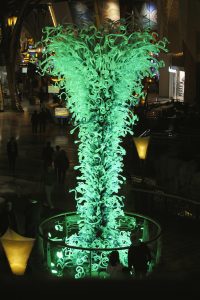 UNCASVILLE, CT (March 5, 2019) – The luck of the Irish is flowing through Mohegan Sun for St. Patrick's Day. On Sunday, March 17th, guests can partake in delicious dining specials, enjoy live entertainment, or pick up a limited edition cocotte from Le Creuset. Guests can also stop by Lansdowne Irish Pub & Music House for exciting giveaways throughout the day.
Tom's Urban is celebrating all March long with St. Madness! Fans of Division I College Basketball can cheer on their bracket picks across 23 hi-definition flat screens and try their luck with Tom's Two-Handed Stein Hoist, an event that will separate the true fans from the pretenders. Participants of the Two-Handed Stein Hoist will be challenged to see who can hold a 40 oz. glass of their favorite beer airborne the longest. All participants can purchase a 40 oz. glass of Stella Artois for $14.50 and have the glass topped off before the competition begins. The winner gets bragging rights, along with a $50 gift card to use towards a future visit. Guests interested in Tom's Two-Handed Stein Hoist will have three chances to test their strength: Friday, March 29th, Sunday, March 31st, and Saturday, April 6th.
In addition to the regular menu, guests at Tom's Urban will be offered a special St. Madness limited menu during the month of March, including:
Fish & Chips for $17.00
Bucket O'Buds: 5 bottles of Bud or Bud Light for $30.00
Guinness pints for $7.00

Add a shot of Jameson or Baileys for $5

Irish coffee for $7.00
Make reservations via Tom's Urban website or call 860.862.8667.
Lansdowne Irish Pub & Music House knows how to go all out for St. Patrick's Day. Doors open on Sunday, March 17th at 11:30am, and the first 250 people to arrive receive a special gift bag with an engraved Guinness glass and other commemorative items. Those lucky 250 people are automatically part of the Golden Ticket Giveaway – 20 Guinness golden tickets are hidden in the gift bags and whoever finds a ticket wins another prize! Throughout the day, Lansdowne will offer additional giveaways and food & beverage specials.
The regular Lansdowne menu is available all day and includes these special, Irish-inspired dishes:
Lansdowne loaded skins: golden fried potato skins filled with corned beef and Swiss cheese, topped with house-made coleslaw and served with Russian dressing
Corned beef and cabbage dinner: slow roasted corned beef brisket, carrots, Yukon potatoes, and cabbage served in a unique house-made brine with mustard and Irish butter on the side
Shepherd's pie: classic preparation made with ground lamb and beef, carrots, onions, and herbs, topped with mashed potatoes and baked until golden brown; served with Irish soda bread and butter
Entertainment will be provided by Clan O' Cleary from Noon – 3:00pm and again from 5:00pm – 8:00pm. Clan O'Cleary is a five-piece band known throughout Connecticut and Rhode Island for playing traditional Irish music and original songs written by members of the group. The unique instrumentation arranged by the band provides a fuller sound to the audience. This is done by incorporating at least 14 instruments associated with Irish music, and playing multiple instruments in addition to singing.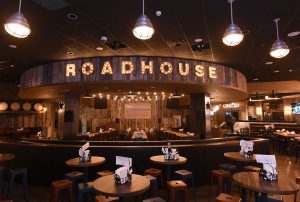 Live entertainment during St. Patrick's Day will also be provided by The Wolf Den and Comix Roadhouse. Sean McConnell brings southern charm to The Wolf Den starting at 7:00pm. Sean McConnell's career started with a grassroots following and has quickly attracted the attention of Country icons like Tim MGraw, Martina McBride, Brad Paisley, and more. McConnell's sound – a warm tenor painting vivid stories over acoustic guitar often cushioned by keys or other strings – has prompted a diverse range of music scenes to warmly claim Sean as one of their own.
St. Patrick's Day is also Silly Sunday over at the newly renovated Comix Roadhouse, and comedian Pat Oates is bringing the laughs with a show at 8:00pm. Pat is the 2015 winner of Comix Roadhouse's Last Comix Standing contest, a writer for Laugh Staff and the host of the Pat Oates Is Sad podcast. His crowd work skills are regarded by many of his peers as second to none. Guests who are looking for an earlier show can enjoy house hypnotist Jim Spinnato at 5:00pm. Spinnato's peformances are a combination of magic, illusion, and comedy; with lots of audience participation.
Seasons Buffet has incorporated a special menu for St. Patrick's Day. On March 17th, guests can celebrate with corned beef, Irish soda bread, Guinness Stout Irish stew, house-made boxty, shepherd's pie, steamed cabbage, colcannon, potato salad, cole slaw, macaroni salad, Irish potato salad, health slaw, parsley boiled potatoes, Dubliner coddle, and grilled beef sausage.
 On St. Patrick's Day, various restaurants across property are offering their take on corned beef and cabbage – an Irish favorite. Todd English's Tuscany is offering house-made Wagyu corned beef, salt cured potatoes, Guinness glazed carrots, and cabbage béchamel for $34.00. Michael Jordan's 23.sportcafe has corned beef and cabbage served with potatoes, carrots, and grain mustard for $23.00. Pasta Vita is serving corned beef and cabbage dinner for two for $18.95. At Jasper White's Summer Shack enjoy corned beef and potato croquettes with a pint of green beer for $10.00.
For dessert, stop by Carlo's Bakery for a leprechaun hat rainbow cake layered with vanilla buttercream and covered with fondant.
Guests can bring the luck of the Irish into the kitchen courtesy of Le Creuset. The Clover Cocotte is back by popular demand in store and on the Le Creuset website for $200 while supplies last.
 ABOUT MOHEGAN SUN:
Owned by Mohegan Gaming & Entertainment, Mohegan Sun is one of the largest, most spectacular entertainment, gaming, dining and shopping destinations in the United States.  Situated on 185 acres along the Thames River in scenic southeastern Connecticut, Mohegan Sun is home to three unique casinos, 1,600 deluxe hotel rooms, 2 world-class spas, a golf course, over 90 shops, restaurants and bars as well as three award-winning entertainment venues including a 10,000-seat Arena. Mohegan Sun is within easy access of New York, Boston, Hartford and Providence and located 15 minutes from the museums, antique shops and waterfront of Mystic Country. More information is available by calling 1.888.226.7711 or visiting mohegansun.com. Connect with us on Facebook, follow us on Twitter and Instagram @mohegansun, view us on YouTube and find us on Snapchat at username MoheganSun.
# # #