On Saturday, November 2nd; Tickets on sale Friday, April 19th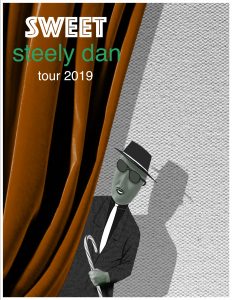 UNCASVILLE, CT (April 15, 2019) – Rock and Roll Hall of Fame inductee, Steely Dan, returns to the Mohegan Sun Arena stage on Saturday, November 2nd at 8:00pm with the Sweet Tour.
Tickets are $66.00, $46.00 and $36.00 and go on sale Friday, April 19th at 10:00am through Ticketmaster. Ticketmaster customers may log on to Ticketmaster.com. Tickets will also be available at the Mohegan Sun Box Office beginning on Saturday, April 20th at 10:00am, subject to availability.
Founded in 1972, Steely Dan began recording their first album, Can't Buy A Thrill, released that November, yielded three hit singles, "Do It Again," and "Reelin' In The Years," and "Dirty Work." The band toured behind Can't Buy A Thrill and the following two albums, Countdown to Ecstasy and Pretzel Logic, both in the United States and Britain.  Over the next five years, four more albums were released: Katy Lied (1975), The Royal Scam (1976), Aja (1977) and Gaucho (1980).
Now one of the top international touring bands, Steely Dan's first new album in 20 years was highly anticipated. 2001 saw Two Against Nature win four Grammys including the award for "Album of the Year." In March, Steely Dan was inducted into the Rock and Roll Hall of Fame. Finally, in May, Donald and Walter received honorary doctorates from the Berklee College of music.
The album Everything Must Go was released in 2003, followed by a triumphant American tour. The band now boasted an all-star lineup: Keith Carlock on drums; "Ready" Freddie Washington on bass; Jim Beard, keyboards; Jon Herington, guitar; Walt Weiskopf and Roger Rosenberg, saxes; and vocalists Carolyn Leonhart, Catherine Russell, LaTanya Hall and Cindy Mizelle.
Now concentrating on live appearances, the band began to offer evenings that featured performances of entire albums. Countdown to Ecstasy, The Royal Scam, Aja and Gaucho have all been performed live, often at the band's annual appearances.
Recent partners on major tours have included The Eagles, The Doobie Brothers, Steve Winwood and Elvis Costello and the Imposters.
Mohegan Sun Arena is now ranked consistently among the top venues in the world according to Billboard Magazine, Pollstar and Venues Now.  Mohegan Sun Arena is consistently ranked among the top three "Arenas in the World for its Size" and top 15 in the "World for All Size Venues." The award – winning venue is the "#1 Casino Venue in the World," "#1 Social Media Venue in the World" and a seven – time national award – winner for "Arena of the Year."  For more information on concerts and other great events, visit Mohegan Sun. For information on this week's schedule, call the Entertainment and Special Events hotline at 1.888.226.7711.