Featuring Tom Johnston, Michael McDonald, Pat Simmons & John McFee at Mohegan Sun Arena on Thursday, July 2nd with special guest The Dirty Dozen Brass Band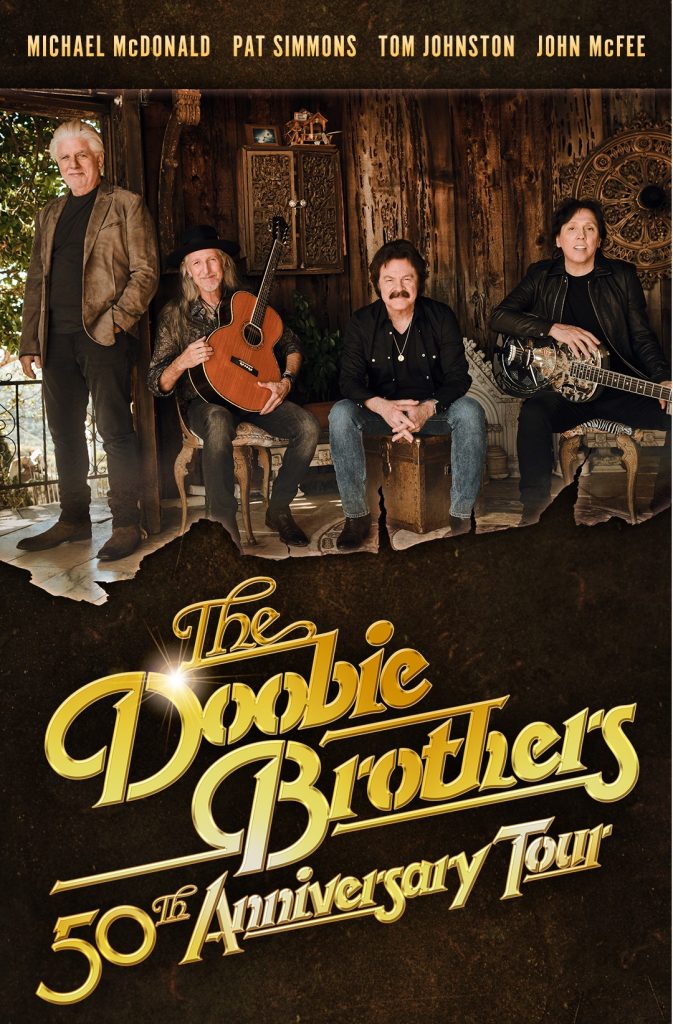 UNCASVILLE, CT (November 19, 2019) – Four-time Grammy award winners and Rock & Roll Hall of Fame nominees The Doobie Brothers today announced a 30-city North American tour to celebrate the 50th anniversary of the band's founding. Tom Johnston, Michael McDonald, Pat Simmons and John McFee will be back on tour together for the first time in nearly 25 years. The announcement came at the conclusion of the band's performance at the legendary Ryman Auditorium in Nashville, Tennessee, in which they played two of their iconic albums, Toulouse Street and The Captain and Me. Michael McDonald took to the stage during the band's encore and gave a surprise performance of The Doobie Brothers' smash hit single, "Takin' It To The Streets," before Pat Simmons announced that the entire band would be teaming up for a North American tour.  The 50th anniversary tour will make a stop at Mohegan Sun Arena on Thursday, July 2nd at 7:00pm with special guest The Dirty Dozen Brass Band.
Tickets are $83.25, $73.25 and $63.25 and go on sale Friday, December 6th at 10:00am through Ticketmaster. Ticketmaster customers may log on to ticketmaster.com. Tickets will also be available at the Mohegan Sun Box Office beginning Saturday, December 7th at 10:00am, subject to availability.
Selling nearly 50 million albums worldwide, The Doobie Brothers have had five top-10 singles, 16 top-40 hits, three multi-platinum albums, seven platinum albums, 14 gold albums and own a rare diamond record for their 1976 album, Best of the Doobies. The Doobie Brothers' collection of timeless hits will once again be played by the artists who wrote them, providing fans the rare opportunity to see these Rock and Roll legends performing their full catalog of songs on stage.
"We're truly excited about our 50th Anniversary Tour, as it's a celebration of the band's entire history. We'll be performing songs from our full catalog, as well as new music," said Tom Johnston.
The Doobie Brothers represent the best of a diverse range of American musical styles, incorporating elements of Rock n' Roll, Blues, Soul, Folk, Country, Bluegrass, and R&B. Their sound has influenced artists across all genres of music and their impact on the industry can be seen across generations, from their start in 1970 through to today.
Fans who attend the Doobie Brothers 50th Anniversary Tour can expect to hear wide range of the band's hit songs, including "Listen To The Music," "Takin' It To The Streets," "Long Train Running," "Black Water," "What A Fool Believes," "China Grove," "Minute By Minute," "It Keeps You Runnin'," "Jesus Is Just Alright With Me" and many more.
"With the Doobies, everybody in the band was proud to be a Doobie Brother. And to this day, I think of myself as a Doobie Brother — all these years later." – Michael McDonald on NPR's Ask Me Another (October 25, 2019)
ABOUT THE DOOBIE BROTHERS
For over four decades, The Doobie Brothers have been known for delivering mind-blowing, roots-based, harmony-laden, guitar-driven Rock and Roll – all of which recently culminated in a nomination for the 2020 Rock & Roll Hall of Fame. Boasting one of the most loyal fan bases in music, selling more than 48 million albums, and winning four Grammy awards, The Doobie Brothers continue to write and record new material and tour the world. Their #1 singles "Black Water" and "What a Fool Believes," both gold, lead a catalog of indelible songs that include: "Listen to the Music," "China Grove," "Jesus Is Just All Right," "Rockin' Down the Highway," "Long Train Runnin'," "Take Me In Your Arms," "Takin' it to the Streets," "Minute by Minute," "You Belong to Me," "The Doctor" and more. In all, the Doobies have tallied up five top 10 singles and 16 top 40 hits. Beginning with their multi-million-selling sophomore collection Toulouse Street, the Doobies have three multi-platinum, seven platinum, and 14 Gold albums. Best of the Doobies has sold more than 12 million copies – a rare "diamond record."
Mohegan Sun Arena is now ranked consistently among the top venues in the world according to Billboard Magazine, Pollstar and VenuesNow.  Mohegan Sun Arena is consistently ranked among the top three "Arenas in the World for its Size" and top 15 in the "World for All Size Venues." The award – winning venue is the "#1 Casino Venue in the World," "#1 Social Media Venue in the World" and a seven – time national award – winner for "Arena of the Year."  For more information on concerts and other great events, visit Mohegan Sun. For information on this week's schedule, call the Entertainment and Special Events hotline at 1.888.226.7711.