Live December 20th with The Mohegan Sun All-Stars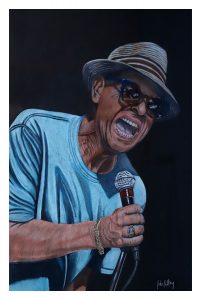 UNCASVILLE, CT (December 10, 2019) – Mohegan Sun All-Stars founder and famed front man, David Foster, will be singing to his fans for the last time on Friday, December 20th in Mohegan Sun's Wolf Den.  It's a retirement from a passion he's enjoyed for a lifetime due to health issues.
David helped form Mohegan Suns first and only "house band," David Foster & The Mohegan Sun All-Stars, who have performed for over twenty years.  The band was inducted into the Wolf Den Hall of Fame on June 15, 2015.  For decades, David Foster, owner of Shaboo Productions, has produced countless fundraising concerts to support local non-profit organizations.  He gave his voice and band while he showcased many notable entertainers that delighted audiences while giving back to his community.
"David Foster has long been part of Mohegan's entertainment family and will be forever part of our history," states Mohegan Gaming & Entertainment's (MGE) President of Sports & Entertainment, Tom Cantone.  "He helped put Mohegan Sun's Wolf Den on the map and was our first and only house band to play in the venue over a span of two decades. We will be forever grateful for the magic he and his band created on stage for all to enjoy and remember forever!"
To share a special evening of fabulous entertainment and a tribute to a beloved entertainer, plan to attend David Foster's final farewell performance on December 20th in Mohegan Sun's Wolf Den.