Your favorite characters brought to life, plus surprise celebrity guests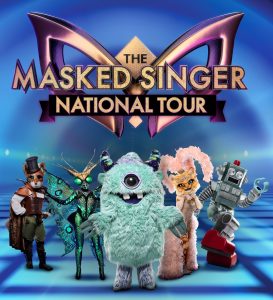 UNCASVILLE, CT (February 13, 2020) – On the heels of last week's Season Three debut of FOX's #1 hit The Masked Singer, Right Angle Entertainment today announced that an all new live show, The Masked Singer National Tour, will hit the road to Mohegan Sun Arena on Sunday, June 14th at 7:30pm, bringing the #1 show on television to the next level on its first-ever North American tour. Presented by Live Nation, The Masked Singer tour to more than 45 cities. Audiences can expect to see their favorite characters brought to life onstage, as well as surprise celebrity guests, amazing new performances and a can't-miss spectacular live show for audiences of all ages.
Tickets are $39.00 and $29.00 and are on sale now through Ticketmaster. Ticketmaster customers may log on to ticketmaster.com. Tickets will also be available at the Mohegan Sun Box Office beginning Friday, February 14th at 10:00am, subject to availability.
"As the formation of FOX Alternative Entertainment allowed us to bring production of The Masked Singer under the FOX banner, we can now explore new and exciting ways to grow this hit franchise," said Rob Wade, President, Alternative Entertainment and Specials, FOX Entertainment. "The Masked Singer national tour is a perfect example of this growth and, more importantly, a fun way for us to bring The Masked Singer and its beloved characters to fans and families across the across the country, live and in person."
The Masked Singer's Season Three premiere posted a 9.1/40 Live +3 Day rating and 26.7 million total viewers, making it television's highest-rated and most-watched reality telecast in eight years. It also ranks as television's #1 entertainment telecast in two years and FOX's highest-rated and most-watched entertainment telecast in six years. With 28.6 million multi-platform viewers, The Masked Singer posted its highest-rated, most-watched and most-streamed telecast ever.
The live show will feature two celebrity guest hosts, as well as one local celebrity who will be in a top-secret disguise, keeping the audience guessing until they are unmasked at the end of the night.
Right Angle Entertainment in partnership with Guy Phillips are producing the tour, and Mark "Swany" Swanhart will direct. With decades of experience in television, film and live entertainment, Phillips, Swanhart and Right Angle Entertainment have transformed television hits, including Dancing with the Stars, America's Got Talent and The Bachelor, into live stage productions that entertain audiences around the world.
For more information including the full tour schedule and ticket information, visit themaskedsingertour.com.
ABOUT FOX ENTERTAINMENT
A division of Fox Corporation, FOX Entertainment's 30-year legacy of innovative, hit programming includes 9-1-1, The Masked Singer, Prodigal Son, Empire, Last Man Standing, 24, The X-Files and American Idol. Delivering high-quality scripted, non-scripted and live content, FOX Entertainment's broadcast network airs 15 hours of primetime programming a week, as well as major sports; and is the only major network to post year-over-year growth among viewers during the 2018-2019 broadcast season.
ABOUT RIGHT ANGLE ENTERTAINMENT
Right Angle Entertainment specializes in the production, marketing, management and distribution of live theatrical, digital and concert events. RAE's proud roster includes: America's Got Talent Live!, The Price is Right LIVE!, Family Feud Live: Celebrity Edition, The Simon and Garfunkel Story, The Office! A Musical Parody (New York City and National Tour), Rudolph the Red Nosed Reindeer (National Tour and Grand Old Opry), Together Live with Abby Wambach and Glennon Doyle, Cat & Nat #MomTruths Tour, Sasha Velour's Smoke & Mirrors Tour, among many others.
Mohegan Sun Arena is now ranked consistently among the top venues in the world according to Billboard Magazine, Pollstar and VenuesNow.  Mohegan Sun Arena is consistently ranked among the top three "Arenas in the World for its Size" and top 15 in the "World for All Size Venues." The award – winning venue is the "#1 Casino Venue in the World," "#1 Social Media Venue in the World" and a seven – time national award – winner for "Arena of the Year."  For more information on concerts and other great events, visit Mohegan Sun. For information on this week's schedule, call the Entertainment and Special Events hotline at 1.888.226.7711.