**The En Vogue show at Mohegan Sun Arena that was previously rescheduled for Thursday, April 15, 2021 has been postponed again to a TBD date. Your ticket will be honored for the new rescheduled date.
Live on Friday, April 17th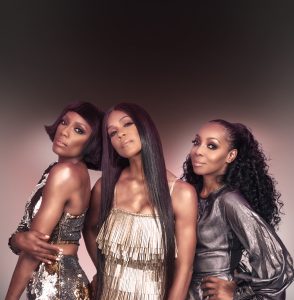 UNCASVILLE, CT (March 9, 2020) – En Vogue, brings three decades of hit singles including songs from their most recent album Electric Café to Mohegan Sun Arena. Performing on Friday, April 17th at 8:00pm, En Vogue members are Terry Ellis, Cindy Herron-Braggs and Rhona Bennett.
Tickets are $25.00 and go on sale Friday, March 13th at 10:00am through Ticketmaster.  Ticketmaster customers may log on to ticketmaster.com. Tickets will also be available at the Mohegan Sun Box Office beginning Saturday, March 14th at 10:00am, subject to availability.
Legendary! It's a status very few groups ever attain. But for 30 years and counting, En Vogue has achieved this pinnacle on nothing but pure talent. Still riding high off the global release of 2018's Electric Café, their first album in 14 years, En Vogue is literally soaring, taking the group to even greater heights.
Formed in 1989 in the Bay Area, En Vogue, comprised then of Ellis, Herron, Dawn Robinson and Maxine Jones, began their official takeover in 1990 with their hit single, "Hold On" from their critically-acclaimed debut album, Born To Sing, which reached #1 on both the Dance and R&B/Hip-Hop charts. Since then, they have sold over 20 million physical albums. More impressively, they have transitioned effortlessly into the digital age, garnering over 30 million streams and 26 million plus YouTube views for their top six hit singles alone, which, in addition to "Hold On," includes "Free Your Mind," "Never Gonna Get It," "Giving Him Something He Can Feel," "Don't Let Go" and "Whatta Man" (feat. Salt-N-Pepa).
Doubling down on their En Vogue legacy has yielded tremendous fruit. "Rocket," their Ne-Yo-penned, lead radio single from Electric Café, blends the group's signature harmonies with a futuristic language for romance, became their first Top 10 single in 20 years. To date, the video, playing up the intergalactic love vibe, has nearly 2 million YouTube views.
Wisely, the critically acclaimed album builds on all that makes En Vogue great-killer vocals infused with class. Keeping their sound fresh hasn't been hard for the trio. "We were just looking for a vibe," says Herron. "In the beginning, we were feeling that electronic dance sound, but then the music started to evolve creatively." Barrett chimes in that "we love the authenticity of Hip-Hop and the fusion of Old School Rhythm with a Contemporary sound."
The result has been stunning. In addition to "Rocket," other standouts include "I'm Good," "Déjà vu" "Blue Skies," and "Have a Seat" featuring Snoop Dogg. The album overflows with key messaging about women's empowerment, self-love and healthy relationships.
At the top of 2018, the trio treated their European fans with shows in Ireland, the United Kingdom, Holland and Germany. In the United States, they stay on the road and in our ears, as their music is heard in such films as Captain Marvel and What Men Want as well as such TV shows as Pose and 9-1-1. En Vogue also hopes to add more acting to their credits, which includes their own 2014 Lifetime film, An En Vogue Christmas.
The ladies give back with The HollyRod Foundation, which provides medical, physical and emotional support to families living with autism and individuals battling Parkinson's disease, as well as non-profit organizations that rescue victims from human trafficking and provide them with educational and job training, topping their philanthropic efforts.
Mohegan Sun Arena is now ranked consistently among the top venues in the world according to Billboard Magazine, Pollstar and VenuesNow.  Mohegan Sun Arena is consistently ranked among the top three "Arenas in the World for its Size" and top 15 in the "World for All Size Venues." The award – winning venue is the "#1 Casino Venue in the World," "#1 Social Media Venue in the World" and an eight – time national award – winner for "Arena of the Year."  For more information on concerts and other great events, visit Mohegan Sun. For information on this week's schedule, call the Entertainment and Special Events hotline at 1.888.226.7711.