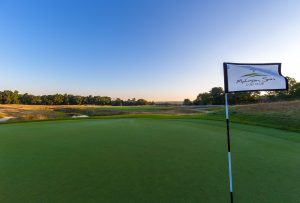 BALTIC, CT (April 15, 2021) –This morning, Mohegan Sun Golf Club (MSGC,) located at 7 Dows Ln, Baltic, CT, officially opened for the season to all resort and public play. In addition to enjoying one of the most scenic and impressive courses New England has to offer, golfers can enjoy the Pautipaug Pub, a spacious and well-appointed clubhouse, a well-stocked and revamped pro shop, a fitness room, the "Triple Tee Snack Bar" that greets players half-way through their round, top-notch practice areas, a training facility and a driving range. Tee times can be made by phone (860-862-9235) or by visiting mohegansun.com/golf.
Led by PGA Master Pro and VP & General Manager, Philip Krick Jr., MSGC kicks off the 2021 season with a public rate of $100 Monday through Thursday ($75 after 2:00pm.) Weekend rates before 2:00pm are priced at $125.00, ($100 after 2:00pm). MSGC does offer military discounts and guests staying at Mohegan Sun receive reduced rates as well. Golf carts are included in all of the above. Mohegan Sun's Momentum members are also provided exclusive opportunities. Signing up for Momentum, Mohegan Gun's loyalty rewards program, is free and can be done via mohegansun.com/momentum
MSGC is also home to a one-of-a-kind Golf Academy where guests can improve their techniques while taking advantage of a comprehensive training facility equipped with the latest in video and shot tracking technologies. Professionals at MSGC will also provide outdoor training, with a coaching model that is based on asking the right questions, actively listening and empowering students with focused, fact-based feedback. Guests can book lessons through the "Golf Academy" tab at the top of mohegansun.com/golf.
Mohegan Sun Golf Club is a 72-par course and one of the premier golf destinations in the Northeast. The 156-acre course is kept in top-shape by a dedicated grounds team and upgrades to various holes have been made since Mohegan Sun took ownership in 2007. Mohegan Sun Golf Club has also become known for hosting high-profile tournaments and events, some of which that have brought the likes of Michael Jordan, Aaron Rodgers, Charles Barkley, Chris Paul, Joe Pesci, Ahmad Rashad, Larry Fitzgerald and Ray Allen to the championship course.
MSGC's clubhouse, stretching 20,000 square feet, has also been significantly updated in recent years, including enhancements to the Pautipaug Pub and lounge areas.
The clubhouse also features a second floor banquet room, which can be customized for private parties, receptions & group events.
For more information on all things Mohegan Sun Golf Club, including the Golf Academy, group event booking and upcoming tournaments, call 860.862.9660 or email Clubhouse & Event Manager, Lisa Najjar-Melkoun, at lnajjar@mohegansun.com.
###