Three Connecticut Sun players were named to the AT&T WNBA All-Star 2021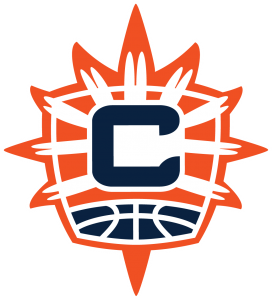 roster on Wednesday afternoon. Brionna Jones, Jonquel Jones and DeWanna Bonner will head to Las Vegas, NV on July 14 to compete in the 17th WNBA All-Star game. The game will be broadcast on ESPN at 7pm EST.
Brionna Jones, who received the first All-Star selection of her career, is averaging a career-best 14.4 points per game and 6.7 rebounds per game in a career-high 31.1 minutes of action per game. Drafted eighth overall in the 2017 WNBA Draft, Jones has solidified herself as one of the top frontcourt players in the league. In 2020, the 6-3 forward saw her first career start and has been in the starting line-up for every contest she has seen action in since.
Jonquel Jones, is due to make the third All-Star appearance (2017, 2019) of her career in 2021. The 6-6 forward is currently leading the Sun in points per game (21.7) and rebounds per game (10.9). Averaging a career-high in points and a second-best in rebounds, Jones sits third in the WNBA for points per game and first in rebounds per game. In 2017 and 2019, when Jones was also selected as an All-Star, she led the league in rebounding both years.
Bonner, a 12-year WNBA veteran, will also be representing the Sun in this year's All-Star Game. The 6-4 forward is currently second on the team in points and rebounds per game. Averaging 16.1 points and 7.4 rebounds. Bonner will appear in her fourth All-Star game.
Those selected as all-stars will compete against the USA Basketball Women's National Team ahead of the 2020 Tokyo Olympics. Team WNBA will be coached by Co-Head Coaches, Lisa Leslie and Tina Thompson.
For more information on AT&T WNBA All-Star 2021, head to wnba.com/allstar. Below are the rosters for Team WNBA and the USA Basketball Women's National Team.
​TEAM WNBA
 (Co-Head Coaches, WNBA Legends Lisa Leslie and Tina Thompson)
| | | | | | | | |
| --- | --- | --- | --- | --- | --- | --- | --- |
| ​​PLAYER | ​TEAM | ​POSIT​ION​ | ​HT | BIRTHDATE     | ​COLLEGE/COUNTRY | ​YRS. |  ASG​ |
| ​ DeWanna Bonner | ​Connecticut | ​Frontcourt | ​6-4 | ​8/21/87 | ​Auburn | ​11 | ​4 |
| ​Liz Cambage | Las Vegas | ​Frontcourt | ​6-8 | ​8/18/91 | ​Australia | ​4 | ​4 |
| ​Kahleah Copper^ | ​Chicago | ​Backcourt | ​6-1 | ​8/28/94 | ​Rutgers | ​5 | 1​ |
| ​Dearica Hamby^ | ​Las Vegas | ​Frontcourt | ​6-3 | ​11/6/93 | ​Wake Forest | ​6 | ​1 |
| ​Brionna Jones^ | ​Connecticut | ​Frontco​urt | ​6-3 | ​12/18/95 | ​Maryland | ​4 | ​1 |
| ​Jonquel Jones | ​Connecticut​ | ​Frontco​urt | ​6-6 | ​1/5/94 | ​George Washington | ​4 | ​3 |
| ​Betnijah Laney^ | ​New York | ​Backcourt | ​6-0 | ​10/29/93 | ​Rutgers | ​5 | ​1 |
| ​Arike Ogunbowale^ | ​Dallas | ​Backcourt | ​5-8 | 3/2/97​ | Notre Dame​ | ​2 | ​1 |
| ​Candace Parker | ​Chicago | ​Frontcourt | ​6-4 | ​4/19/86 | ​Tennessee | ​13 | ​6 |
| ​Satou Sabally^​ | ​Dallas | ​Frontcourt | ​​6-4 | ​4/25/98 | ​Oregon/Germany | ​1 | ​1 |
| ​Courtney Vandersloot | ​Chicago | ​Backcourt | 5-8 | ​2/8/89 | ​Gonzaga | ​10 | ​3 |
| ​Courtney Williams^ | ​Atlanta | ​Backcourt | ​  5-8 | ​5/11/94 | ​South Florida | ​5 | ​1 |
USA WOMEN'S NATIONAL TEAM
 (Head Coach Dawn Staley)
| | | | | | | | |
| --- | --- | --- | --- | --- | --- | --- | --- |
| ​PLAYER | ​TEAM | POSITION | HT.​ | BIRTHDATE​ | COLLEGE​ | YRS.​ | ASG​ |
| ​Ariel Atkins^ | Washington​ | Backcourt​ | 5-8​ | 7/30/96​ | Texas​ | ​3 | ​1 |
| ​Sue Bird | ​Seattle | ​Backcourt | ​5-9 | 10/16/80​ | Connecticut​ | 17​ | 12​ |
| ​Tina Charles | ​Washington | ​Frontcourt​ | ​6-4 | 12/5​/88 | ​Connecticut | 10​ | 8​ |
| ​Napheesa Collier | ​Minnesota | Frontcourt​ | 6-1​ | 9/23/96​ | Connecticut​ | 2​ | 2​ |
| ​Skylar Diggins-Smith | ​Phoenix | Backcourt​ | 5-9​ | 8/2/90​ | Notre Dame​ | 7​ | 5​ |
| ​Sylvia Fowles | ​Minnesota | ​Frontcourt | 6-6​ | 10/6/85​ | LSU​ | 13​ | 7​ |
| ​Chelsea Gray | ​Las Vegas | ​Backcourt | 5-11​ | 10/8/92​ | Duke​ | 6​ | 4​ |
| ​Brittney Griner | Phoenix​ | Frontcourt​ | 6-9​ | ​10/18/90 | ​Baylor | ​8 | 7​ |
| ​Jewell Loyd | Seattle​ | Guard | 5-10​ | 10/5/93​ | Notre Dame​ | 6​ | 3​ |
| ​Breanna Stewart | ​Seattle | Frontcourt​ | 6-4​ | 8/27/​94​ | Connecticut​ | 4​ | 3​ |
| ​Diana Taurasi | ​Phoenix | Backcourt​ | 6-0​ | 6/11/82​ | Connecticut​ | 16​ | 10​ |
| ​A'ja Wilson | ​Las Vegas | Frontcourt​ | 6-4​ | 8/8/96​ | South Carolina​ | 3​ | 3​ |
^ denotes first-time All-Star selection
YRS denotes number of seasons completed entering 2021
ASG denotes number of All-Star selections including 2021
###