Tickets on sale this Friday, December 17th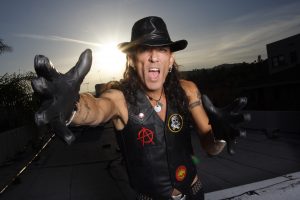 Iconic Metal legends Slaughter, Quiet Riot, and Stephen Pearcy of Ratt are teaming up for an epic night of Hard Rock and Metal music. The trio will co-headline a performance at 7:30pm on Friday, February 18, 2022, at Mohegan Sun Arena.
Tickets are $25 and go on sale Friday, December 17th at 10:00am via ticketmaster.com. Tickets will also be available at the Mohegan Sun Box Office beginning Saturday, December 18th, subject to availability.
As the founder, lead singer and songwriter of the Metal Rock band Ratt, Stephen Pearcy is credited with having been a pioneer of the early 80's Sunset Strip Rock scene. Having led his creation to mega Multi-Platinum success year after year from 1984 to 1991. Capturing critical acclaim for his performance, style and uniquely salacious vocals. Pearcy formed Ratt in Los Angeles in 1982 from his previous band Mickey Ratt.
Known for their overtly sexual appearance, rebellious attitude and take no prisoner approach to Metal, Atlantic Records recognized Ratt's potential and star power and signed the band to a contract. The deal resulted in the 1984 album, Out of the Cellar, which became one of many Multi-Platinum successes. Ratt climbed up the charts with singles from Out of the Cellar, soaring past Prince's "Let's Go Crazy," Van Halen's "Panama," Madonna's "Borderline," and David Bowie's "Blue Jean." Throughout Ratt's nearly four decades of success with Pearcy at its helm, they released eight albums, and played thousands of shows worldwide all while selling more than 20 million records.
Slaughter has enjoyed plenty of success in the last three decades, including Multi-Platinum-selling records and an American Music Award. To date, the band has sold more than 5 million records worldwide, and have had many hits on the Billboard Hot 100 charts including "Up All Night," and "Fly To The Angels."
Quiet Riot continues its historic journey in 2021 per the wishes of former drummer Frankie Banali, who passed away in 2020, and the Banali estate. The band continues to play live and the lineup is composed of Quiet Riot veterans: Bassist Chuck Wright and Quiet Riot guitarist Alex Grossi from their most stable lineup. In 2019, the band welcomed the return of vocalist Jizzy Pearl and is now joined by drummer Jonny Kelly.
Quiet Riot is a Rock and Roll phenomenon. Famously described as the first heavy metal band to top the Pop chart at No. 1 on Billboard magazine, the Los Angeles quartet became an overnight sensation thanks to their monster 1983 smash album, Metal Health. The album stormed up the U.S. charts, duly reaching the No. 1 spot and going platinum five times over in the process at that time. The sales of Metal Health have now exceeded the 10 million mark worldwide to date.
Mohegan Sun Arena is now ranked consistently among the top venues in the world according to Billboard Magazine, Pollstar and VenuesNow.  Mohegan Sun Arena is consistently ranked among the top three "Arenas in the World for its Size" and top 15 in the "World for All Size Venues." The award – winning venue is the "#1 Casino Venue in the World," "#1 Social Media Venue in the World" and a seven – time national award – winner for "Arena of the Year."  For more information on concerts and other great events, visit Mohegan Sun. For information on this week's schedule, call the Entertainment and Special Events hotline at 1.888.226.7711.
# # #