Special guest illuminati hotties set to open for Death Cab for Cutie
Eight-time Grammy-nominated Rock band Death Cab for Cutie will take the stage for one night at 7:30pm on Friday, July 15th at Mohegan Sun Arena.
Tickets are $45 and $35 and go on sale Friday, March 11th at 10:00am via ticketmaster.com. Tickets will also be available at the Mohegan Sun Box Office beginning Saturday, March 12th, subject to availability.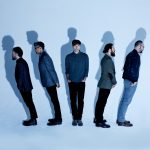 Death Cab for Cutie originally formed in Bellingham, Washington, in 1998. Their 2005 studio release, Plans, proved the band's popular breakthrough, earning RIAA platinum certification, as well as spawning the chart-topping singles, "Soul Meets Body" and "I Will Follow You Into The Dark," the latter of which was honored with a Grammy nomination for "Best Pop Performance By a Duo or Group with Vocals." Plans also received a nod for "Best Alternative Album" at the Grammy's. Their following albums, Narrow Stairs (2008), The Open Door (2009), Codes and Keys (2011), and Kintsugi (2015), also all received various Grammy nominations, yielding their fourth straight nomination for "Best Alternative Music Album" and bringing their nominations to eight overall.
Death Cab for Cutie's most recent full-length release, Thank You for Today (2018), is the sound of a band both expanding and refining 22 years into its evolution, and still uncovering new curves in signatures and new sonic corners to explore. The Seattle group's ninth studio album was heralded by lead single "Gold Rush," which reached No. 1 on Billboard's Adult Alternative Songs chart.
In December 2020, ahead of the run-off elections in Georgia, the band released The Georgia E.P., featuring covers of iconic artists from the state. Originally released as a 24-hour Bandcamp exclusive, the EP raised more than $100,000 for Fair Fight Action, Stacey Abrams' voting rights organization promoting fair elections around the country through voter education, election reform, and combating voter suppression.
Throughout the duration of the COVID-19 pandemic, lead vocalist and guitarist Benjamin Gibbard helped raise more than $250,000 in donations and supplies for various Seattle-area relief organizations via his series of at-home livestream performances.
Most recently in February 2022, Gibbard conceived, curated, and executive produced Ocean Child: Songs of Yoko Ono – a tribute to the acclaimed singer, songwriter, multimedia artist, and activist. Death Cab for Cutie themselves contributed a cover of "Waiting For The Sunrise," with other artists on compilation including David Byrne, Japanese Breakfast, The Flaming Lips, and Sharon Van Etten.
Mohegan Sun Arena finished 2021 with its first "#1 Indoor Arena" ranking for its capacity in the world according to Pollstar and VenuesNow, ranked among the top 10 venues in the U.S. regardless of size based on ticket sales, and was named "2021 Innovator of the Year" by Celebrity Access for its ViacomCBS residency.  In recent years, the "Most Beloved Venue in America" has also been the "#1 Casino Venue in the World," "#1 Social Media Venue in the World" and a seven – time national award – winner for "Arena of the Year."  For more information on concerts and other great events, visit Mohegan Sun. For information on this week's schedule, call the Entertainment and Special Events hotline at 1.888.226.7711.
# # #