Mousasi will take on undefeated Johnny Eblen live on Showtime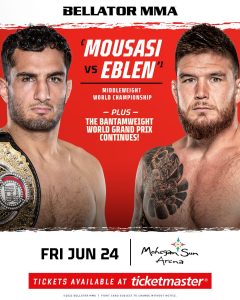 Bellator MMA will continue its stirring streak of impressive fight cards with a Middleweight World Championship and two Bantamweight Grand Prix quarterfinal combats this summer. The No. 4-ranked pound-for-pound fighter Gegard Mousasi (49-7-2) will defend his Bellator Middlewieght World Championship against No. 1-ranked Johnny Eblen (11-0), who's fresh off a massive victory over previously No. 1-ranked John Salter. Mohegan Sun Arena will host the fights at 9:00pm on Friday, June 24, and will air live on Showtime.
Tickets are $225, $175, $125, $85, and $50 and go on sale Friday, April 1st at 10:00am through Ticketmaster and Bellator.com. Tickets will also be available at the Mohegan Sun Box Office beginning Saturday, April 2nd at 10:00am, subject to availability.
In addition, fight fans can expect a captivating supporting televised card for Bellator 282: Mousasi vs. Eblen with the remaining two Bantamweight World Grand Prix quarterfinal matchups featuring Magomed "Tiger" Magomedov (18-2-0) and Leandro "Pitbull" Higo (21-5-0). The opponents for both men will be determined by a pair of Wild Card bouts set to take place at Bellator 278 on Friday, April 22nd.
The preliminary card will feature a fantastic female flyweight fight between former title challenger and No. 5-ranked Alejandra Lara (9-5) and Team Pitbull's Ilara Joanne (9-6), which will stream live on the Bellator MMA YouTube channel, Showtime Sports YouTube channel, and Pluto TV beginning at 6:00pm on Friday, June 24th.
Given a body of work that spans nearly 20 years and 60 fights, Mousasi is widely considered one of the best fighters of all time. Having competed in multiple weight classes from welterweight to super heavyweight, Mousasi has asserted his dominance against all challengers. A two-time Bellator MMA Middleweight World Champion, Mousasi enjoyed his first reign as the promotion's 185-pound king in 2018, winning the title against Rafael Carvalho and defending it against Rory MacDonald. The Dutchman reclaimed his title in a dominant performance over Douglas Lima, who held the welterweight championship at the time, before adding successful TKO title defenses against John Salter and Austin Vanderford, both of whom were ranked No. 1 at the time of their fights. Now, Mousasi will look to defend his reign against a third straight No. 1 contender in a hungry Johnny Eblen.
A rising name amongst the Bellator MMA stable, current No. 1-ranked Johnny Eblen has impressed MMA fans with his ability to find the "cheat code" to take down his opponents. With 11 pro fights under his belt, Eblen jumped in rankings when he beat the previously top-ranked John Salter in March. Other notable finishes include conquering Daniel Madrid via a first-round TKO at Bellator 258 and Colin Huckbody via strikes in 71 seconds at Bellator 272. Eblen, who trains at American Top Team in south Florida, has "King Mo" Lawal, one of the few men to ever defeat Mousasi, among his coaches and will look to him for the blueprint to victory.
About Bellator
Bellator MMA is a leading global mixed martial arts organization featuring many of the best fighters in the world. Under the direction of veteran fight promoter Scott Coker, Bellator events take place in major cities worldwide and can be seen on television in over 160 countries to an available audience of over one billion people. In the United States, Bellator can be seen on SHOWTIME. Bellator is comprised of an executive team that includes top industry professionals in television production, live event orchestration, fighter development/relations, venue procurement, sponsorship creation/development, international licensing, marketing, advertising, publicity, and commission relations. Bellator is based in Hollywood, California and owned by entertainment giant ViacomCBS, home to the world's premier entertainment brands that connect with audiences through compelling content across television, motion picture, online and mobile platforms.
About SHOWTIME
Showtime Networks Inc. (SNI), a wholly owned subsidiary of ViacomCBS Inc., owns and operates the premium television networks SHOWTIME®, THE MOVIE CHANNEL™ and FLIX®, and also offers SHOWTIME ON DEMAND®, THE MOVIE CHANNEL™ ON DEMAND and FLIX ON DEMAND®, and the network's authentication service SHOWTIME ANYTIME®. Showtime Digital Inc., a wholly owned subsidiary of SNI, operates the stand-alone streaming service SHOWTIME®. SHOWTIME is currently available to subscribers via cable, DBS, and telco providers, and as a stand-alone streaming service through Amazon, Apple®, Google, LG Smart TVs, Oculus Go, Roku®, Samsung Smart TVs, Xbox One and PlayStation®4. Consumers can also subscribe to SHOWTIME via Amazon's Prime Video Channels, Apple TV Channels, AT&T TV Now, FuboTV, Hulu, The Roku Channel, Sling TV, and YouTube TV. Viewers can also watch on computers at Showtime.com. SNI markets and distributes sports and entertainment events for exhibition to subscribers on a pay-per-view basis through SHOWTIME PPV®. For more information, go to www.SHO.com.
About Mohegan Sun Arena
Mohegan Sun Arena is now ranked consistently among the top venues in the world according to Billboard Magazine, Pollstar and VenuesNow.  Mohegan Sun Arena is consistently ranked among the top three "Arenas in the World for its Size" and top 15 in the "World for All Size Venues." The award – winning venue is the "#1 Casino Venue in the World," "#1 Social Media Venue in the World" and a seven – time national award – winner for "Arena of the Year."  For more information on concerts and other great events, visit Mohegan Sun. For information on this week's schedule, call the Entertainment and Special Events hotline at 1.888.226.7711.
# # #