Underwood and special guest Jimmie Allen visit Mohegan Sun Arena on February 11, 2023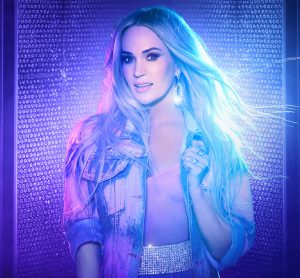 On the heels of her triumphant headlining return to the iconic Stagecoach Festival, eight-time Grammy Award winner and three-time ACM "Entertainer of the Year" Carrie Underwood announces her new arena tour, The Denim & Rhinestones Tour. Underwood and special guest Jimmie Allen will perform at Mohegan Sun Arena at 7:30pm on Saturday, February 11, 2023.
Tickets are $150.50, $130.50, and $100.50 and go on sale Friday, May 20th at 10:00am via ticketmaster.com. Tickets will also be available at the Mohegan Sun Box Office beginning Saturday, May 21st, subject to availability.
Jimmie Allen will join The Denim & Rhinestones Tour as his star continues to rise, following his first Grammy Award nomination for "Best New Artist" in 2022 and CMA and ACM Award wins for "New Artist of the Year" and "New Male Artist of the Year," respectively, in 2021. His third album Tulip Drive will be released June 24th.
"I'm thrilled to be hitting the road again with The Denim & Rhinestones Tour," Underwood said. "I'm having such an amazing time with my Las Vegas residency and look forward to continuing that next year after the tour. I'm excited to bring the new music of Denim & Rhinestones to life on tour, as well as put new spins on familiar favorites. We've been working hard already preparing an amazing show, and I can't wait to see everyone on the road!"
Underwood will release her highly anticipated album Denim & Rhinestones on June 10th. The album is her latest collaboration with David Garcia, with Garcia and Underwood having co-produced her critically acclaimed 2018 release Cry Pretty, which marked the first time Underwood produced her own album. Garcia and Underwood also co-produced Underwood's 2021 Grammy Award-winning album of gospel hymns, My Savior. The lead single from the new upcoming albums, "Ghost Story," is currently climbing the charts and has garnered more than 30 million global streams.
Since early in her career, Underwood has designated a portion of ticket sales from her tours to support worthwhile charities and organizations. She continues that tradition by arranging for a donation of $1 from each ticket sold to be contributed to the Tunnel to Towers Foundation, which has been helping America's heroes since 9/11 by providing mortgage-free homes to Gold Star and fallen first responder families with young children and by building custom-designed smart homes for catastrophically injured veterans and first responders. The foundation is also committed to eradicating veteran homelessness and aiding the victims of major U.S. disasters.
Mohegan Sun Arena finished 2021 with its first "#1 Indoor Arena" ranking for its capacity in the world according to Pollstar and VenuesNow, ranked among the top 10 venues in the U.S. regardless of size based on ticket sales, and was named "2021 Innovator of the Year" by Celebrity Access for its ViacomCBS residency.  In recent years, the "Most Beloved Venue in America" has also been the "#1 Casino Venue in the World," "#1 Social Media Venue in the World" and a seven – time national award – winner for "Arena of the Year."  For more information on concerts and other great events, visit Mohegan Sun. For information on this week's schedule, call the Entertainment and Special Events hotline at 1.888.226.7711.
# # #