Montell Jordan, All-4-One, Rob Base, Color Me Badd, and Young MC to perform on Sunday, September 25th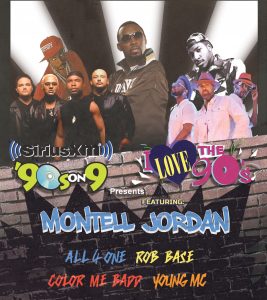 SiriusXM's 90s on 9 Presents Universal Attractions' The I Love The 90s Tour featuring Montell Jordan, All-4-One, Rob Base, Color Me Badd, and Young MC will all take the stage for a night of nostalgia, Hip-Hop and R&B at 7:00pm on Sunday, September 25th at Mohegan Sun Arena.
Tickets are $35 and $25 and go on sale Friday, June 24th at 10:00am via ticketmaster.com. Tickets will also be available at the Mohegan Sun Box Office beginning Saturday, June 25th, subject to availability.
About Montell Jordan
When Montell Jordan first started out, his style was undefined, as he borrowed from the musical qualities of Michael Jackson, Prince, Lionel Richie, and the like. Knowing he had to develop his own style – to sound like somebody who didn't exist yet – Jordan started sampling Blues records, singing melodies and writing Rap lyrics in a "straight-outta Los Angeles" way, eventually combining these features with his earlier influences to create a sound that would define him. Little did he know, he would become the pioneer of the type of combined Rap/R&B ballads heavily taking over the charts today.
Jordan took over the charts in 1995 with singles like "This Is How We Do It," "Somethin 4 Da Honeyz," "I Like," and "Let's Ride" featuring Master P and Silkk the Shocker. Not only was he gifted vocally, but he was a producer and writer penning tracks for other notable artists including Deborah Cox's 1998 No. 2 Billboard single "Nobody's Supposed To Be Here," Sisqó's 2000 No. 1 Hit "Incomplete" and many more.
About All-4-One
Celebrating their 29th anniversary this year, All-4-One continues to tour the world as the original members with a collection of hit songs under their belt. The Grammy Award-winning group All-4-One is internationally known for making beautiful love songs that not only chart radio airwaves, but also garner countless awards.
All-4-One's very first single "So Much in Love," scaled to RIAA Gold Sales and Top 5 Pop status. The California-based quartet soon marked their place in the industry as premier balladeers. Their second single "I Swear," claimed the Billboard Hot 100 No. 1 spot for 11 consecutive weeks, while sales skyrocketed to hold the No. 1 selling single status in 1994 and third most successful single of the Rock era. "I Swear" still holds a spot on Billboard's Hot 100 as one of the most successful singles of all time and has been named by ASCAP as one of the greatest love songs of the 20th century. "I Swear" is recorded in history with an imprint in the Guinness Book of World Records (as the biggest selling single of 1994).
The group's second album was highlighted by "I Can Love You Like That," which hit the Top 5 on the Billboard Hot 100. To date they have released a total of seven albums and sold more than 20 million units worldwide, won a bevy of awards including a Grammy, American Music Award, a Blockbuster Award, countless international awards and completed multiple major world tours.
About Rob Base
Rob Base hails from Harlem, New York. He first began with various groups such as Sure Shot Seven, Cosmic 3 MC's, and Freedom Force. He and partner DJ EZ Rock (whom he has known since the fourth grade) would eventually separate from the groups to form Rob Base and DJ EZ Rock. Their first single "DJ Interview" came out on Mike and Dave's label Star Maker's Records in 1986. World to World Records would produce their second single "Make It Hot" in 1987. Rob Base and DJ EZ Rock's music began to gain momentum and they would receive a distribution deal with Profile Records by 1988.
In 1988, Profile Records released Rob Base and DJ EZ Rock's debut album It Takes Two. The title track became a massive single. The single and the album were certified Platinum by the RIAA on June 12, 1989, and December 28, 1989, respectively, and produced three top 10 hits. The single earned "Single of the Year" honors from both Spin Magazine and The Village Voice. Additional singles such as "Get on the Dance Floor" (which reached No. 1 on the Dance Club charts) and "Joy and Pain" continued to help push the album to multi-platinum status. In 1989, Rob Base dropped a solo release album The Incredible Base, which went Gold and included a number of hits such as "Turn It Out (Go Base)" and "Get Up and Have A Good Time." In the last 30 years, Rob Base has continued to make his mark in the Hip-Hop and Freestyle worlds.
About Color Me Badd
Color Me Badd is one of the top R&B vocal groups of all time. The group has sold 12 million records in the U.S., and the group is well-known in Australia, the Philippines, Indonesia, Thailand, the U.K. and New Zealand. Their debut album C.M.B. sold more than 6 million copies worldwide and became certified Triple Platinum in the U.S. They have three No. 1 singles and 17 Top 20 singles.
Five hit singles from their debut album C.M.B. include "I Wanna Sex You Up," "I Adore Mi Amor" "All 4 Love" "Thinkin' Back" and "Slow Motion."
About Young MC
Rapper Marvin Young grew up middle class and earned a degree in economics from the University of Southern California, where he met Michael Ross and Matt Dike, cofounders of the fledgling Delicious Vinyl rap label. Young made his debut as Young MC on the single "I Let 'Em Know." In 1989, Young collaborated with Tone-Loc on "Wild Thing," the first Top Ten Pop hit for a Black rapper and the follow up smash "Funky Cold Medina."
Young stepped out on his own later in the year with the Top Ten smash "Bust a Move," a good-natured examination of romantic successes and failures spiced by his sense of humor and quick tongued rapping. The song won a Grammy for "Best Rap Performance" and its strong Pop appeal helped the associated album Stone Cold Rhymin' go Platinum. The follow up "Principal's Office" was a humorous, everyday high school tale resembling a Chuck Berry plot and also climbed into the Top 40.
About Mohegan Sun Arena
Mohegan Sun Arena finished 2021 with its first "#1 Indoor Arena" ranking for its capacity in the world according to Pollstar and VenuesNow, ranked among the top 10 venues in the U.S. regardless of size based on ticket sales, and was named "2021 Innovator of the Year" by Celebrity Access for its ViacomCBS residency.  In recent years, the "Most Beloved Venue in America" has also been the "#1 Casino Venue in the World," "#1 Social Media Venue in the World" and a seven – time national award – winner for "Arena of the Year."  For more information on concerts and other great events, visit Mohegan Sun. For information on this week's schedule, call the Entertainment and Special Events hotline at 1.888.226.7711.
# # #