The centerpiece of the campaign is a 30-second commercial now airing; will engage guests through billboards, social media, radio, digital advertising, on-site at Mohegan Sun and via future activations throughout the region
UNCASVILLE, CT (June 28, 2022) – Mohegan Sun, the premier entertainment and
gaming destination on the East Coast, has launched a new advertising brand campaign titled, "All in for Mohegan." The campaign's signature commercial, viewable HERE, takes viewers through the world at play that is Mohegan Sun, and answers the questions, "Who's in for Mohegan?" and "Why?" Created by Advertising, Design and Digital agency, TAXI, in close coordination with Mohegan Sun's Marketing Communications team led by George Galinsky and Lindsay Bollenbach, "All in for Mohegan" will air locally and regionally, which included a spot recently in the Northeast at the start of an NBA Finals game between the Celtics and Warriors on ABC. The spot also aired during the NHL's Stanley Cup Finals on ESPN.
"The new "All in for Mohegan" ad campaign is a perfect representation of what our guests feel at, and about Mohegan Sun." -said Jeff Hamilton, President and General Manager of Mohegan Sun "We are home to endless entertainment options, incredible dining, world-class lounges and nightlife, thrilling casinos and the friendliest guest service anywhere, all pointing in the same direction, which is to have the 'best time ever' at Mohegan Sun."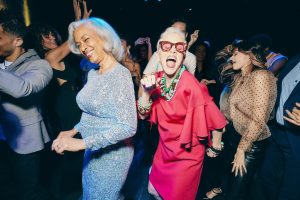 The "All in for Mohegan" campaign serves as the foundation of Mohegan Sun's refreshed look and feel for the brand. The spot features Mohegan Sun's very own Derrick Williams, Director of Transportation. Williams can be seen greeting guests in Mohegan Sun's Sky Tower hotel lobby at the opening of the spot. From there, the commercial provides a  peek into a "friends night out" and where it takes them. When the question of "Who's in for Mohegan?" is posed, the response is a rhetorical one: "Everyone, obviously." The group finds themselves taking in a variety of special moments that millions of people experience at Mohegan Sun every year. This includes thrills at the slots and at the jaw-dropping Mohegan Sun FanDuel Sportsbook, followed by dinner at Mohegan Sun's most-popular restaurant, TAO Asian Bistro & Lounge. Dancing at one of the nightclubs, and then onto a sell-out concert inside the 10,000-seat Mohegan Sun Arena, bowling in style at Game On!, selfies at the famous Chihuly, rolling the dice on a Craps game, and then meeting new friends of all ages to party with in novelle, rounds out the night.  The group finally crashes at the hotel to do it all over again the next day.

"The new campaign is authentic. It's welcoming. It's real. It helps viewers start to feel what it is really like at Mohegan Sun and why it is so different from every other hospitality or travel destination out there." -said George Galinsky, SVP Marketing Communications, Mohegan.
"The message is: everyone's invited to experience hospitality Mohegan style. Whether you are 25 or 95, an avid gamer or not – Mohegan Sun has the unique ability to take a good experience and transform it into a great, unforgettable event.  This new campaign does a great job of capturing that spirit for us."
Campaign ads are also launching regionally beyond Connecticut, including in Rhode Island, New York City, Long Island, Boston and more. To learn more about Mohegan Sun, or to book a stay – please visit: mohegansun.com
ABOUT TAXI
Celebrating its 30th year in 2022, TAXI is a North American full-service agency that connects brands with consumers through creativity, technology, and culture. Its principal offices are in New York, Toronto, Montréal, and Vancouver. The agency is behind award-winning campaigns for client partners including Mohegan Sun, Volkswagen, Audi, Applegate, Kraft Heinz, Colgate-Palmolive, and GSK/Pfizer. For more information, visit agency.taxi.  TAXI is part of the VMLY&R network, and a WPP company (NYSE: WPP).
ABOUT MOHEGAN SUN
Owned by Mohegan, Mohegan Sun is one of the largest, most spectacular entertainment, gaming, dining and shopping destinations in the United States.  Situated on 185 acres along the Thames River in scenic southeastern Connecticut, Mohegan Sun is home to two unique casinos, 1,600 deluxe hotel rooms, two world-class spas, a golf course, over 70 shops, restaurants and bars as well as three award-winning entertainment venues including a 10,000-seat Arena. Mohegan Sun is within easy access of New York, Boston, Hartford and Providence and located 15 minutes from the museums, antique shops and waterfront of Mystic Country. More information is available by calling 1.888.226.7711 or visiting mohegansun.com. Connect with us on Facebook, follow us on Twitter and Instagram @mohegansun, view us on YouTube and find us on Snapchat at username MoheganSun.
# # #