Cardenas Marketing Network and MAGNUS announced Marc Anthony's VIVIENDO Tour will continue in 2023, adding multiple shows, including a date at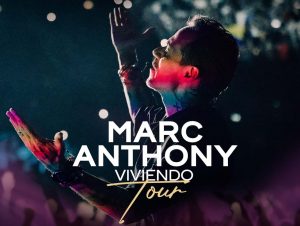 Mohegan Sun Arena on Friday, February 17, 2023 at 8:00pm.  
The pre-sale for this performance at Mohegan Sun Arena is scheduled for Thursday, November 17th at 10:00am. Tickets are $181, $141, $111, $91 and $61 and go on sale for the general public on Friday, November 18th at 9:00am via Ticketmaster.com.  Tickets will also be available at the Mohegan Sun Box Office beginning Saturday, November 19th, subject to availability.
For fans looking for the VIP experience, VIP packages will be available for purchase as well. These VIP Packages will allow fans to reserve premium seating, dedicated entry, merchandise, a commemorative VIP laminate and more.
For more information visit marcanthonyonline.com
About Marc Anthony: Marc Anthony is one of the most influential artists of his time and a true ambassador of Latin music and culture.  He has received countless Gold and Platinum certifications from the Recording Industry Association of America (RIAA) and has been credited with over 30 Billboard chart hits and over 7.1 billion views on YouTube.
On May 10, 2019, Marc Anthony released OPUS, his first studio album in six years on Magnus Media / Sony Latin Music. OPUS is his eighth Salsa album in the 26 years since Otra Nota (1993) established him. In addition to winning the 2020 GRAMMY for "Best Tropical Album," OPUS has earned Anthony a #1 spot on Billboard's Tropical Airplay list with "Parecen Viernes", 4 nominations to Latin American Music Awards for: Favorite Album (OPUS), Favorite Artist Tropical, Favorite Song ("Parecen Viernes"), and Favorite Tour.  He was a finalist in four categories for the 2020 Billboard Latin Music Awards (Tropical Album of the Year – OPUS, Tropical Song of the Year – "Parecen Viernes," Tropical Artist of the Year – Solo, and Tour of the Year – OPUS TOUR).
About Mohegan Sun Arena: Mohegan Sun Arena finished 2021 with its first "#1 Indoor Arena" ranking for its capacity in the world according to Pollstar and VenuesNow, ranked among the top 10 venues in the U.S. regardless of size based on ticket sales, and was named "2021 Innovator of the Year" by Celebrity Access for its ViacomCBS residency.  In recent years, the "Most Beloved Venue in America" has also been the "#1 Casino Venue in the World," "#1 Social Media Venue in the World" and a seven – time national award – winner for "Arena of the Year."  For more information on concerts and other great events, visit Mohegan Sun. For information on this week's schedule, call the Entertainment and Special Events hotline at 1.888.226.7711.
# # #