Bosse wins $5,000 and will headline a future show at the Wolf Den
A panel of celebrity judges named Nick Bosse from North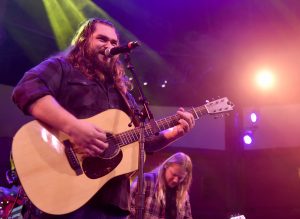 Stonington, Connecticut, the Locals Live 2022 Champion after the finals on Wednesday, December 7th at Mohegan Sun's Wolf Den. As part of the grand prize, Bosse won $5,000 and will headline a future show at the Wolf Den. Mad Mesa from Griswold, Connecticut, won $1,000 as runners-up.
Nick Bosse, Mad Mesa, and third-place band Hawkns from Milford, Connecticut, were named finalists after an exciting four week-contest hosted by Mohegan Sun and Hall Communications. Twelve bands were originally selected to perform live in the Wolf Den and competed in groups throughout November. Bosse, Mad Mesa, and Hawkns advanced to the Finals after winning their respective first-round battles.
The crowd was full and jovial on Wednesday night for the finals and guests were encouraged to dance to their favorite bands for crowd participation points. The final decision from the judges was based on musical presentation, stage presence, response from audience, and originality.
Bosse performed alongside his band The Northern Roots and had a large group of fans show up with signs and t-shirts who danced and kept the energy going throughout his set.
"I think every musician who participated in the 2022 Locals Live competition is eager for any opportunity to play at the Wolf Den because it is known as a professional venue within the music industry," Bosse said. "We were there to showcase our love of Country music, share that passion with a live audience, and continue to promote/build the music community here in Connecticut. Winning was a great bonus and thrill for not only me and The Northern Roots, but especially for our followers THE BOSSE POSSE who have supported us for years.  They 100% shared and continue to celebrate alongside us!"
Nick Bosse is an independent Nashville recording artist with 10 years in the music industry. His Country music vocals are backed by a power-house band of musicians from Connecticut and Rhode Island: The Northern Roots. Nick's songwriting and music stylings are influenced by Country, Southern Rock, and Bluegrass legends, which he projects in every live performance. Since its release in January 2021, his popular single "What Happened to Country" has reached more than 1 million streams globally.
The panel of guest judges were Will Evans, songwriter and frontman for the New England-based Roots-Rock outfit Barefoot Truth; Derrick Williams, Director of Diversity Equity and Inclusion at Mohegan Sun; Bryan Howard, a nationally acclaimed touring musician; and Cara Brindisi, a Season 22 contestant on The Voice. Evans and Brindisi gave their own performances ahead of the finals competition on Wednesday night. Brindisi will return to Mohegan Sun for The Snow Globe Tour at 8:00pm on Saturday, December 17th, at novelle. Tickets are on sale now.
View a full gallery of Nick Bosse at Locals Live here.
ABOUT THE WOLF DEN: Located in the center of the action, in Casino of the Earth, the always popular Wolf Den offers full beverage service, a state-of-the-art sound system, intimate seating and top performances by entertainers like Ludacris, The Marshall Tucker Band, Warrant, Sister Hazel, Chubby Checker, Big Bad Voodoo Daddy, Queensrÿche and Run-DMC – and it's all free!
For more information on all things Mohegan Sun, call 1.888.226.7711 or visit mohegansun.com. Connect with us on Facebook, follow us on Twitter and Instagram @mohegansun, view us on YouTube and find us on Snapchat at username MoheganSun.
# # #