Tickets on sale February 10th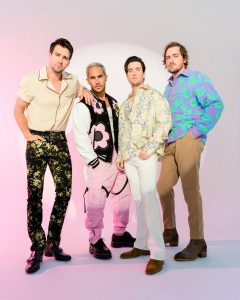 After a whirlwind 2022, which featured a sold-out North American tour and new music, Big Time Rush can't get enough of their fans. Back for more, Big Time Rush made a special appearance on NBC's TODAY this morning to exclusively premier their highly anticipated new single "Can't Get Enough," and announce their upcoming Can't Get Enough Tour, which stops at Mohegan Sun Arena at 7:00pm on Saturday, July 1st.
Tickets are $129.50, $99.50, $79.50, $59.50, and go on sale Friday, February 10th at 10:00am via ticketmaster.com. Tickets will also be available at the Mohegan Sun Box Office beginning Saturday, February 11th, subject to availability.
"The story behind the song isn't very complicated," the band says of the new single. "To put it simply, we can't get enough. Can't get enough of making new music and can't get enough of performing for everyone. We are influenced by many different artists, styles, and decades and "Can't Get Enough" is a nod to the Disco era. We are so excited for everyone to hear the song and everything else we've been working on. The Can't Get Enough Tour is going to be a wild ride. Since our first shows back in 2021, we decided this isn't a reunion. This is a comeback. The Can't Get Enough Tour is going to be bigger than ever. We are pushing ourselves to make the best show possible so that every night is truly special. This is going to be a tour you do not want to miss."
Special guests Jax and Max will open the show. Multi-platinum Pop star Max has amassed more than 1.5 billion streams and has released a number of multi-platinum songs. Singer-songwriter and TikTok star Jax, who won iHeartRadio's TikTok Songwriter of the Year award in 2022, has made waves with her body-positive anthem "Victoria's Secret," which debuted on Billboard's Hot 100 chart.
Big Time Rush became an overnight sensation in 2009 from the launch of the Nickelodeon television series Big Time Rush. The show was a huge success and catapulted the group into real-life stardom, as they went on to release three studio albums and performed across the globe. In June 2020, the band held a surprise virtual reunion to celebrate the 10-year anniversary of their smash hit "Worldwide," resulting in mass hysteria amongst their fans and in the media. In March 2021, all four seasons of Nickelodeon's Big Time Rush were added to Netflix and the band went viral once again, increasing their fan demand for an official reunion. Soon after, the band announced they would come together for two special live shows in New York and Chicago, both of which sold out in a matter of minutes, blowing expectations out of the water and proving the power of the band's devoted fandom. 2022 saw their North American Forever Tour sell out and the band release hit singles "Honey," "Fall," and "Not Giving You Up." 2023 promises to be another massive year for the band and fans can expect more news from Big Time Rush soon.
About Mohegan Sun Arena
Mohegan Sun Arena finished 2021 with its first "#1 Indoor Arena" ranking for its capacity in the world according to Pollstar and VenuesNow, ranked among the top 10 venues in the U.S. regardless of size based on ticket sales, and was named "2021 Innovator of the Year" by Celebrity Access for its ViacomCBS residency.  In recent years, the "Most Beloved Venue in America" has also been the "#1 Casino Venue in the World," "#1 Social Media Venue in the World" and a seven – time national award – winner for "Arena of the Year."  For more information on concerts and other great events, visit Mohegan Sun. For information on this week's schedule, call the Entertainment and Special Events hotline at 1.888.226.7711.
# # #