Special guest Better Than Ezra joins Train at Mohegan Sun Arena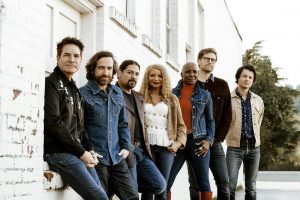 Fans will have an opportunity to witness multi-Grammy and Billboard Award-winning band Train's extensive and critically acclaimed catalog of hits performed live. Train returns to Mohegan Sun Arena with special guest Better Than Ezra at 7:30pm on Saturday, August 19th.
Tickets are $99.50, $59.50, and $49.50, and go on sale Friday, March 10th at 10:00am via ticketmaster.com. Tickets will also be available at the Mohegan Sun Box Office beginning Saturday, March 11th, subject to availability.
Train's climb to the top began in 1994, as the original five-member band tenaciously built a loyal hometown following, leading up to their debut album in 1998. The tumbling wordplay of "Meet Virginia" gave them their first unlikely radio hit, and 2001's "Drops of Jupiter" broke them to multi-platinum status thanks to the double-Grammy Award winning-title song that spent 10 months in the Top 40. The group won another Grammy Award in 2011 for their global hit "Hey, Soul Sister," from their multi-platinum album Save Me, San Francisco. The now 11-time platinum hit "Hey, Soul Sister," was the No. 1 best-selling smash and most downloaded single of 2010. It also achieved RIAA Diamond status in 2021 and, in 2022, surpassed one billion streams on Spotify.
Train has sold more than 10 million albums and 30 million tracks worldwide, with multiple platinum/gold citations, including three Grammy Awards, two Billboard Music Awards and dozens of other honors. They've had 12 albums on the Billboard 200 albums chart with their 2014 Bulletproof Picasso reaching No. 4 in 2012 and 2017's a girl a bottle a boat, debuting at No. 8. Train's highly anticipated 11th studio album, AM Gold, was released on May 20, 2022.
Train frontman Pat Monahan partakes in other ventures outside of music, including his award-winning wine portfolio, Save Me, San Francisco Wine Co, which was created in 2011 and has sold more than 10 million bottles and won more than 100 medals. Proceeds from his wine business support Family House, a San Francisco charity that supports families of children with cancer and other life-threatening illnesses. Monahan has appeared on television and in film with credits that include the 2021 Hallmark Channel original movie, Christmas in Tahoe, inspired by Train's album of the same name, which he executive produced and starred, Dr. Ken, 90210, CBS's Hawaii Five-0 and Magnum P.I., The Voice, American Idol, and The Bachelor.
Better Than Ezra – the New Orleans quartet founded by Kevin Griffin (lead vocals, guitar, piano) and Tom Drummond (bass, backing vocals) — formed in 1988 at Louisiana State University. Their hummable melodies, unshakable guitar riffs, and confessional lyrics quietly cemented the group as an enduring force in Rock music. Named one the top "100 Greatest Alternative Artists of All Time" by Billboard, Better Than Ezra released their last single, "Grateful," in 2018 and are currently in the studio working on new music.
About Mohegan Sun Arena
Mohegan Sun Arena finished 2021 with its first "#1 Indoor Arena" ranking for its capacity in the world according to Pollstar and VenuesNow, ranked among the top 10 venues in the U.S. regardless of size based on ticket sales, and was named "2021 Innovator of the Year" by Celebrity Access for its ViacomCBS residency.  In recent years, the "Most Beloved Venue in America" has also been the "#1 Casino Venue in the World," "#1 Social Media Venue in the World" and a seven – time national award – winner for "Arena of the Year."  For more information on concerts and other great events, visit Mohegan Sun. For information on this week's schedule, call the Entertainment and Special Events hotline at 1.888.226.7711.
# # #