Tickets on sale Friday, March 31st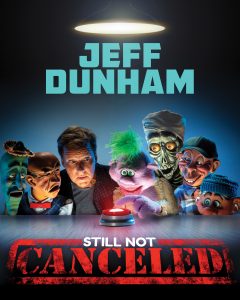 Jeff Dunham has sold-out global concert tours, shattered ratings for broadcast specials, set a few Guinness Book of World Records, and now returns to Mohegan Sun Arena at 8:00pm on Saturday, September 2nd.
Tickets are $69, $59, $49, and $39 and go on sale Friday, March 31st at 10:00am via ticketmaster.com. Tickets will also be available at the Mohegan Sun Box Office beginning Saturday, April 1st, subject to availability.
Ventriloquist Jeff Dunham is a comedy superstar and one of the world's most inventive entertainers. After graduating from Baylor University, he moved to Los Angeles to base his global touring and never looked back. The man Slate called "America's favorite comedian" has 11 record-breaking comedy specials to his credit – three were Comedy Central's most viewed specials of their respective years (Me the People in 2022, Minding the Monsters in 2012, and Controlled Chaos in 2011), and his Jeff Dunham's Very Special Christmas Special from 2008 remains the networks' highest rated program of all time.
His NBC primetime special, Unhinged, ranked as the time period's top non-sports program on the Big 4, rebroadcast six weeks later on Comedy Central to become its top rated special of 2016. His most recent special, Me the People, arrived as the highest rated stand-up special since Jeff Dunham: The Unrehearsed Pandemic Special two years ago, and the most watched comedy special of 2022.
His autobiography, All By My Selves: Walter, Peanut, Achmed and Me, landed Dunham on The New York Times' Best Seller list three weeks in a row. He was also named Billboard's Top Comedy tour for three consecutive years. The versatile entertainer created an animated film for Country Music Television, hosted the Food Network's Halloween Baking Championship, guest starred on ABC's Ellen, NBC's 30 Rock, Disney's Sonny with a Chance, did commercials for Hertz, and appeared in Jay Roach's Dinner for Schmucks, featuring Steve Carrell and Paul Rudd.
Mohegan Sun Arena finished 2021 with its first "#1 Indoor Arena" ranking for its capacity in the world according to Pollstar and VenuesNow, ranked among the top 10 venues in the U.S. regardless of size based on ticket sales, and was named "2021 Innovator of the Year" by Celebrity Access for its ViacomCBS residency.  In recent years, the "Most Beloved Venue in America" has also been the "#1 Casino Venue in the World," "#1 Social Media Venue in the World" and a seven – time national award – winner for "Arena of the Year."  For more information on concerts and other great events, visit Mohegan Sun. For information on this week's schedule, call the Entertainment and Special Events hotline at 1.888.226.7711.
# # #