The innovative creator of fusion genre "Mariacheño" will visit Mohegan Sun Arena on Friday, November 3rd
Cardenas Marketing Network (CMN) today announced the new American tour of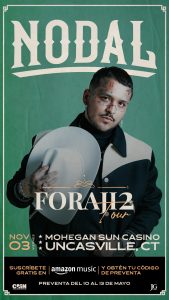 Christian Nodal, titled 'Foraji2 Tour 2023,' that will visit more than 30 cities across the country.  Grammy Award-winning Nodal, known as the creator of 'Mariacheño' that unites the musical genres of Norteño and Mariachi, will visit the country's largest and most important venues with a fresh and unique show that stays true to the essence that has rapidly made him one of the most successful stars in the world of regional Mexican music. The Foraji2 Tour 2023 stops at Mohegan Sun Arena on Friday, November 3rd at 8:00pm.
Tickets are $161, $131, $101, $81 and $61, and go on sale Saturday, May 13th at 10:00am via ticketmaster.com. Tickets will also be available at the Mohegan Sun Box Office beginning Sunday, May 14th, subject to availability. Amazon Music users can access the pre-sale between May 10th and 13th by simply downloading the Amazon Music app to obtain an exclusive code. Pre-sale tickets can be purchased on www.cmnevents.com. Starting today, guests can sign up and download the app for free by visiting amazon.com/nodal on a mobile phone.
"Being on stage and sharing my music with fans is where I feel the most myself. I can't wait to be with my fans to show them this new show that will have many surprises and of course, a lot of great music that celebrates Mexican culture in the way that it deserves," said Christian Nodal, who has been preparing the new show for months.
"There is no denying the popularity and reach of regional Mexican music, which is why it has always been important to our company," added Alex Cardenas, director of tours at CMN. "We are proud to once again produce Christian Nodal's new tour, given that as one of the greats of Latin music, he continues to break records and barriers."
ABOUT CHRISTIAN NODAL
Born in Caborca, Sonora, Mexico, Christian Nodal is the fastest-growing artist in the regional Mexican music genre, fusing the classic sounds of Mariachi music with the accordion to create "Mariacheño," a term that he himself coined. Currently, he is the most successful regional Mexican singer-songwriter, winner of five Latin Grammys, eight Latin Billboard awards, 11 Latin AMA awards, ten Premio Lo Nuestro awards, eight Premios Juventud awards, recognition for his 'Extraordinary Evolution' by the Latin AMA awards and two Tu Música Urbana awards. Christian is followed by an average of nine million on Instagram, nine million on Facebook and 600,000 on Twitter. He has ten million subscribers on YouTube, with more than eight billion views, and 20 million listeners on Spotify.
ABOUT CMN
CMN is the leading Latin live entertainment company in the United States, with reach and influence throughout the continent. Constantly developing projects in the world of music, art and sports, it is a multicultural example of organization and entrepreneurship. The company is responsible for producing the world renowned and notable tours featuring legendary artists including Bad Bunny, Daddy Yankee, FEID, Ana Gabriel, Marc Anthony, Manuel Turizo and La Banda MS. More information at www.cmnevents.com or at @cmnevents on Twitter and Instagram.
ABOUT AMAZON MUSIC
Amazon Music is an immersive audio entertainment service that connects fans, artists, and creators through music, podcasts, and culture. Amazon Music brings fans closer to what they love, with curated and personalized playlists, artist live streams, artist merchandise, and Amazon-exclusive podcasts. Prime members have access to over 100 million songs in shuffle mode, unrestricted playlists, and the largest catalog of ad-free podcasts, included in their subscription. Customers can upgrade to Amazon Music Unlimited for full access whenever they want to listen to 100 million songs in HD and a growing catalog of Ultra HD and Spatial audio. Anyone can listen to Amazon Music by downloading the free Amazon Music app, or wherever you listen to music, including Alexa-enabled devices. Learn more at https://www.amazon.com/music.
ABOUT MOHEGAN SUN ARENA
Mohegan Sun Arena finished 2021 with its first "#1 Indoor Arena" ranking for its capacity in the world according to Pollstar and VenuesNow, ranked among the top 10 venues in the U.S. regardless of size based on ticket sales, and was named "2021 Innovator of the Year" by Celebrity Access for its ViacomCBS residency.  In recent years, the "Most Beloved Venue in America" has also been the "#1 Casino Venue in the World," "#1 Social Media Venue in the World" and a seven – time national award – winner for "Arena of the Year."  For more information on concerts and other great events, visit Mohegan Sun. For information on this week's schedule, call the Entertainment and Special Events hotline at 1.888.226.7711.
# # #