Popular comedian will perform his standup comedy in The Cabaret Theatre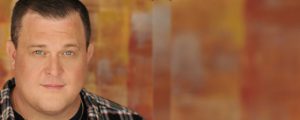 Talented actor, stand-up comedian and star of the hit CBS television series Mike and Molly, Billy Gardell, is set to take the stage at The Cabaret Theatre on Wednesday, July 17th for two shows at 8:00pm and 10:00pm.
Tickets are $30.00 and are on-sale now through Ticketmaster. Ticketmaster customers may log on to ticketmaster.com; call Ticketmaster's national toll free Charge By Phone number 1.800.745.3000; or visit any Ticketmaster outlet.  Tickets are also available at the Mohegan Sun Box Office  subject to availability. More details are also available at www.mohegansun.com/entertainment.
Gardell took the long road to Hollywood, stopping at every small town lounge, military base and comedy club along the way. His comedy act took him to Los Angeles where his dedication to acting, along with touring as a stand-up comedian, allowed him to grow consistently in both arenas. His stand-up show is a powerhouse. His grounded, down-to-earth point of view strikes a strong chord with American audiences. Stories about his rough childhood, wild adolescence and new family life are executed with the skill of a master craftsman.
As a stand-up comic, his comedy specials, Billy Gardell: Halftime, premiered on Comedy Central and Billy Gardell Presents Road Dogs premiered on Showtime. In addition he makes regular appearances on NFL Today on CBS Sports.
Gardell has had numerous television and motion picture roles. Before Mike and Molly he co-starred in the critically acclaimed series Lucky. Other credits include Yes Dear, Judging Amy, My Name is Earl, The Practice and Monk. Gardell was also in the movie Avenging Angelo, Bad Santa and You, Me & Dupree.

Mohegan Sun Arena is ranked 3rd in the U.S. and 5th in the world by Billboard Magazine and was the 2008 and 2010 recipient of a Country Music Award for "Casino of The Year."  Venues Today also ranked Mohegan Sun Arena #4 in 2011 and ranked in the top six of "Top Stops of The Decade" in 2012. For more information on concerts and other great events at Mohegan Sun, visit mohegansun.com. For information on this week's schedule, call the Entertainment and Special Events hotline at 1.888.226.7711, ext. 27163.