Presented by Hallmark Channel; tickets on sale September 20th at 10:00am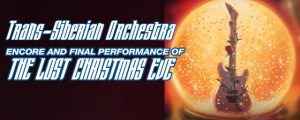 UNCASVILLE, CT (September 16, 2013) — Trans-Siberian Orchestra (TSO) will celebrate their first 15 years of touring with an encore and final performance of their multi-platinum Rock opera, "The Lost Christmas Eve."  TSO's 2013 Winter Tour will begin on November 13th, playing over 100 shows in 67 cities across North America including a stop at Mohegan Sun Arena on Thursday, December 19th for a 7:30pm show. The concert is presented by Hallmark Channel. A modern classic that can stand side by side with a Charles Dickens tale, "The Lost Christmas Eve" has become yet another chapter in the TSO holiday tradition.
Tickets are $70.00 and $50.00 and go on sale Friday, September 20th at 10:00am through Ticketmaster.  Ticketmaster customers may log on to ticketmaster.com; call any Ticketmaster Charge by Phone number; 1.800.745.3000 or visit any Ticketmaster outlet.  Tickets may also be purchased at the Mohegan Sun Box Office starting Saturday, September 21st subject to availability.
For one final year, audiences will get to experience the modern Charles Dickens-like classic, "The Lost Christmas Eve."  Following the 2012 premiere of this acclaimed Rock opera, critics raved, calling it "Powerful, captivating……", "…a must see for any music lover" , "…a Rock n' Roll holiday celebration worth seeing!" and an "unrivaled spectacle of sight and sound." Taking the audience on a journey into the "Capra-esque" world of TSO, creator / producer Paul O'Neill, "The Lost Christmas Eve" fuses elements of Rock, Classical, Folk, R&B, and Broadway styled music into its diverse soundtrack. Encompassing a rundown hotel, an old toy store, a blues bar, a Gothic cathedral, and their respective inhabitants all intertwined during a single enchanted Christmas Eve in New York City, the "The Lost Christmas Eve" is a holiday favorite for the entire family.
Since their debut in 1996, TSO has defied the rules of an ever-changing music industry.  Year after year, the group has ranked in the Top 10 for both gross revenues and attendance, according to Pollstar magazine. Having played live to over one million fans each year TSO witnessed a 15% increase in sales alone in 2012, transforming them into a year round tradition that's here to stay.  Having sold in excess of 9 million albums and performed to more than 10 million fans, in 150+ cities worldwide, the band's rock operas have defined them as the leader in Rock Theater, being regarded as a mix of The Who's "Tommy", Andrew Lloyd Weber's musicals, and Pink Floyd's expansive light show.
For up-to-the-minute news and on-sale information, please visit: www.tsotickets.com
For additional information, please visit: www.trans-siberian.com and www.nightcastlealbum.com
Mohegan Sun Arena is ranked 3rd in the U.S. and 5th in the world by Billboard Magazine and was the 2008 and 2010 recipient of a Country Music Award for "Casino of The Year."  Venues Today also ranked Mohegan Sun Arena #4 in 2011 and ranked in the top six of "Top Stops of The Decade" in 2012. For more information on concerts and other great events at Mohegan Sun, visit mohegansun.com. For information on this week's schedule, call the Entertainment and Special Events hotline at 1.888.226.7711, ext. 27163.