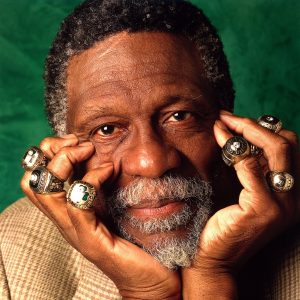 Celebrate basketball legends with 3 days of events on and off the court
The National Basketball Retired Players Association (NBRPA) and former NBA greats such as Bill Russell, Rick Barry, Otis Birdsong, Dave Cowens, Darryl Dawkins, Alex English, Spencer Haywood, Robert Horry, Micheal Ray Richardson and many more are set to converge on Mohegan Sun for a weekend of exciting events Friday, April 25th through Sunday, April 27th as part of the Legends of Basketball Fantasy Weekend.
Three days of basketball action begins Thursday, April 24th with the start of the Legends of Basketball Fantasy Camp. From Friday through Sunday, fantasy campers have a chance to rub shoulders with the greatest players of all-time and compete on-the-court by participating in an all-inclusive fantasy camp in Mohegan Sun Arena with basketball legends Barry, Cowens, English, Dawkins, Birdsong and Richardson.
Opening night of Legends of Basketball Fantasy Weekend will see the Legends step off of the court and into the casino to compete with guests for a $50,000 prize pool during the Mohegan Sun Blackjack Tournament. On the evening of Saturday, April 26th Mohegan Sun will host the Legends of Basketball Philanthropy Awards Gala honoring 11-time NBA Champion Russell, 3-time NCAA men's basketball champion Jim Calhoun and other basketball luminaries for their legacies on and off the court.
Legends of Basketball Fantasy Weekend is a charitable event to raise funds for the National Basketball Retired Players Association's (NBRPA) Dave DeBusschere Scholarship Fund and other charitable partners. As part of the philanthropic weekend, the NBRPA's Legends of Basketball will also conduct a free youth basketball and life skills clinic for the local community.
All-inclusive fantasy camp spots are just $2500 and include a ticket to the black-tie Gala honoring Bill Russell. For non-campers, tournament slots for the Mohegan Sun Blackjack Tournament start at $100 and tickets for the black-tie Gala are available starting at $300 with VIP packages and sponsorships also available. Tickets can be purchased through Ticketmaster and the Mohegan Sun Box Office.
About NBRPA
The National Basketball Retired Players Association (NBRPA) is comprised of former professional basketball players from the NBA, ABA and Harlem Globetrotters. It is a 501(c) 3 organization with a mission to develop, implement and advocate a wide array of programs to benefit its members, supporters and the community. The NBRPA was founded in 1992 by basketball legends Dave DeBusschere, Dave Bing, Archie Clark, Dave Cowens and Oscar Robertson. The NBRPA works in direct partnerships with the NBA and the National Basketball Players Association. Arnie D. Fielkow is the President & CEO, and the NBRPA Board of Directors includes Chairman of the Board Otis Birdsong, Vice Chairman Thurl Bailey, Treasurer Marvin Roberts, Secretary Steve Hayes, Past Chairman Robert A. (Bob) Elliott, Past Chairman Dr. George W. Tinsley Sr., Rick Barry, Harvey Catchings, Spencer Haywood, LaRue Martin and Johnny Newman.
About Mohegan Sun
Owned by the Mohegan Tribal Gaming Authority, Mohegan Sun is one of the largest, most distinctive and spectacular entertainment, gaming, shopping and dining destinations in the United States.  Situated on 185 acres along the Thames River in scenic southeastern Connecticut, Mohegan Sun is within easy access of New York, Boston, Hartford and Providence and located 15 minutes from the museums, antique shops and waterfront of Mystic Country. More information is available by calling 1.888.226.7711 or visiting mohegansun.com Connect with us on Facebook, follow us on Twitter, like on Pinterest and view us on YouTube.