"King Mo" Lawal vs. Cheick Kongo replaces Bobby Lashley vs. James Thompson and Andre Santos steps in for Douglas Lima to battle Paul Daley at "Bellator: The British Invasion"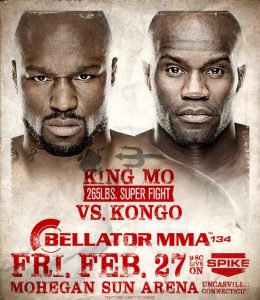 UNCASVILLE, CT (January 23, 2015) — Injury has forced the delay of a heavily anticipated matchup between Bobby Lashley (12-2) and James Thompson (20-14) but Bellator MMA officials have announced a blockbuster fight to replace it in Muhammed "King Mo" Lawal (14-4) vs. Cheick Kongo (22-9-2).  Also Andre Santos (37-9) has stepped in for the injured welterweight champion Douglas Lima (26-5), and will now face the always-dangerous Paul Daley (35-13).
The new contest is scheduled for the televised portion of "Bellator: British Invasion," which takes place on Friday, February 27th, at Mohegan Sun Arena in Uncasville, CT. The night's main card airs live on Spike TV, while preliminary bouts stream on Spike.com.
Tickets for "Bellator: British Invasion," which start at just $25.00, are already on sale at Ticketmaster.com and Bellator.com. Additional bouts are expected to be announced shortly.
"We're disappointed we had to delay these fights between Bobby Lashley and James Thompson, and Douglas Lima and Paul Daley, but I have no doubt that these matchups will be fantastic once they eventually come to fruition," Bellator MMA CEO Scott Coker said. "Fortunately, we're able to replace the bouts with equally entertaining contests for our fans."
"King Mo" Lawal fights for the 10th time for Bellator MMA and has established himself as one of the most recognizable superstars in the sport. A standout wrestler who normally competes at light heavyweight, the former NCAA Division I All-American and Pan American gold medallist has earned 11 of his 14 career MMA wins by knockout, including recent striking stoppages of Joe Vedepo and Dustin Jacoby. The former Bellator MMA tournament winner and Strikeforce light heavyweight world champion now moves up to heavyweight for the first time since 2009 to challenge himself against Kongo.
Kongo, a 6-foot-4 Frenchman, is a former professional kickboxer who boasts black belts in both Karate and Kendo.  A multiple-time world champion in kickboxing, Kongo now focuses solely on MMA and has built a 4-1 record under the Bellator MMA banner. Training at Wolfslair MMA Academy in London, Kongo most recently flashed his well-rounded game by scoring a first-round submission over fellow striker Lavar Johnson in a September matchup. Kongo's lone Bellator loss came in a five-round contest for the Bellator MMA Heavyweight World Championship, in which he went five full rounds with Vitaly Minakov but came up short in a decision result.
Paul Daley is a highly feared and respected veteran with dynamite in both fists, which earned him the nickname "Semtex." The 31-year-old from Nottingham, England has won an impressive 74% of his 35 victories by way of knockout. Having fought for Scott Coker under the Strikeforce banner, rejoining him at Bellator was a no brainer.  Daley took to the Internet to share his feelings on the injury to Lima, stating: "Nervous, Scared??…..I understand, preparing to fight me…. I would be. It's ok…. guess you get to have a few more photo shoots with the belt…. My focus has shifted, same date, new opponent…. British Invasion at Bellator 134."
The new opponent his focus has shifted to is Andre "Chatuba" Santos. A veteran of the sport in his own right, the Rio De Janeiro fighter has two more wins than Daley in four less fights.  Santos defeated James Terry at Bellator 129, in what was his first fight on American soil.  He now has his sights set on Daley, with hopes to win his seventh straight fight.
About Bellator MMA
Bellator MMA is a leading Mixed Martial Arts organization featuring many of the best fighters in the world. Under the direction of veteran fight promoter Scott Coker, Bellator is available to nearly 500 million homes worldwide in over 140 countries. In the United States, Bellator can be seen on Spike TV, the MMA television leader.  Bellator MMA is comprised of an executive team that includes top industry professionals in television production, live event orchestration, fighter development/relations, venue procurement, sponsorship creation/development, international licensing, marketing, advertising, publicity and commission relations.  Bellator is based in Santa Monica, California and owned by entertainment giant Viacom, home to the world's premier entertainment brands that connect with audiences through compelling content across television, motion picture, online and mobile platforms.
More information on media credential requests are located here: http://credentials.bzapr.com/credentials/MVS/
Mohegan Sun Arena is ranked 3rd in the U.S. and 5th in the world by Billboard Magazine and was the 2008 and 2010 recipient of a Country Music Award for "Casino of The Year." Venues Today also ranked Mohegan Sun Arena #3 in the Nation and #3 in the World for top stops in 2013 and also ranked the Arena in the top six of "Top Stops of The Decade" in 2012. For more information on concerts and other great events at Mohegan Sun, visit mohegansun.com. For information on this week's schedule, call the Entertainment and Special Events hotline at 1.888.226.7711, ext. 27163.