Renovated Room in Mohegan Sun's Sky Tower Hotel in Uncasville, CT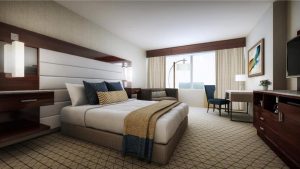 Uncasville, Connecticut (June 16, 2016) – As construction progresses on Mohegan Sun's 400-room, $130 million Earth Tower opening in fall 2016, Mohegan Sun announces a two year $50 million renovation project for the Sky Tower – the existing 1,200-room hotel that was introduced in 2002. Part of this initiative includes a multi-million dollar revamp and rebranding of the property's existing spa, combined with a completely new Mandara Spa build out as part of the new Earth Tower. Continuously striving to offer guests the best amenities available, Mohegan Sun has announced the introduction of Victoria's Secret to The Shops at Mohegan Sun, two new dining offerings and exclusive hybrid fusion games.
The Sky Renovation project, estimated at $50 million overall once completed, will encompass standard and junior suite room renovations including new carpeting, wall covers, casework furniture and fabrics. The rooms will also feature a brand new e-tray arrangement in lieu of a mini-bar, refrigerators, as well as an iPad, providing a multitude of services for guests including a compendium, thermostat adjustments, room service ordering and TV control. For guests' convenience, a motion detecting light will be installed under the end tables, and will turn on automatically once guests step out of bed. The hotel corridors and lobby furniture will also be updated as part of the project.

"At Mohegan Sun, we are committed to continuously providing fresh and appealing offerings," says Ray Pineault, President & General Manager of Mohegan Sun. "These enhancements are a few examples of our dedication to evolve and steadily exceed the expectations of our valued guests."
Mohegan Sun is working with Steiner Leisure Limited to bring Mandara Spa to two separate locations on-property. This global spa brand was established in Bali, Indonesia and is a pioneer of tropical, multi-cultural spa experience rooted in the Balinese tradition of healing touches. The Sky Tower's existing 22,000 square foot Elemis Spa will undergo a complete renovation and rebranding to become a Mandara Spa, which is projected to be complete in 2017. Set to open this fall, the new Mandara Spa location is in development within the Earth Tower and will feature seven total treatment rooms. Featuring world-renowned, premium spa offerings, the addition of having two Mandara Spas on property will significantly elevate the brand's guest experience in a way that truly defines modern indulgence.
"We are privileged to embark on this journey with Mohegan Sun Hotel, presenting a new spa brand and expanded spa facilities that will afford hotel and casino guests with another luxury experience on property," said Leonard Fluxman, President and Chief Executive Officer of Steiner Leisure Limited. "The Mandara Spa brand has a global footprint, and its debut at Mohegan Sun will not only introduce innovative treatment and product offerings, but will also fuse time-honored Balinese traditions with regional influences for an unparalleled spa experience."
Adding to the retail offerings, Mohegan Sun has partnered with Victoria's Secret to open a new location in The Shops at Mohegan Sun, coming this fall, and earlier this month, welcomed The Art of Shaving, a premium barber spa and shop.  Later this summer, Tom's Urban, will open with an innovative travel inspired menu and over 40 beers on tap. More restaurant offerings will include a sit down waiter serviced Asian restaurant, Jumbo Oriental, is set to open featuring Chinese, Vietnamese, and Southern Asian offerings, infused with authentic flavors that melt deep into each dish.
In addition to the Sky Tower renovations, Hybrid Fusion games have launched inside Sunrise Square, with more to be installed in Casino of the Sky by the end of June 2016. A Hybrid Fusion game involves live blackjack, roulette and baccarat dealers' hands to be broadcasted onto a monitor sitting in front of the player as well as a 50" screen above the stadium. This technology will allow players to play designated games of blackjack, roulette, or baccarat at the same time.
"Mohegan Sun Connecticut will be the first in the United States to offer the blackjack Hybrid Fusion game, which truly sets us apart in the industry," says Ray Pineault, President & General Manager of Mohegan Sun. "Guests will now be able to participate in four of their favorite games at once, which enhances their experience at our world-class casinos." Casino of the Sky will have a total of 41 seats for guests, while Sunrise Square will have 20 seats.
ABOUT MOHEGAN SUN
Owned by the Mohegan Tribal Gaming Authority, Mohegan Sun is one of the largest, most spectacular entertainment, gaming, dining and shopping destinations in the United States.  Situated on 185 acres along the Thames River in scenic southeastern Connecticut, Mohegan Sun is home to three unique casinos, a 34-story, 1,200 room luxury hotel, a world-class spa and golf course, over 85 shops, restaurants and bars as well as three award-winning entertainment venues including a 10,000-seat Arena. Mohegan Sun is within easy access of New York, Boston, Hartford and Providence and located 15 minutes from the museums, antique shops and waterfront of Mystic Country. More information is available by calling 1.888.226.7711 or visiting mohegansun.com. Connect with us on facebook.com/mohegansun, follow us on twitter.com/mohegansun, Instagram @mohegansun and view us on youtube.com/mohegansunvideos.