SAN ANTONIO, TX (April 1st, 2018) – Yesterday at the NCAA Men's Final Four in San Antonio, the Naismith Memorial Basketball Hall of Fame announced a ten-year partnership extension with Connecticut-based entertainment venue Mohegan Sun. The Hall of Fame and Mohegan Sun have enjoyed an 11 year partnership and this announcement will continue the relationship for the long term.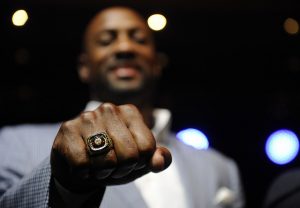 "We are very appreciative of our partnership with Mohegan Sun and the memories we've been able to create together over the years," said John L. Doleva, President and CEO of the Basketball Hall of Fame. "Our partnership with Mohegan Sun has been a game changer for the Hall of Fame and we very much appreciate Mohegan Sun's desire to remain a big part of the Hall of Fame family for many years to come."
The partnership will continue to include several annual college basketball events at Mohegan Sun Arena including the Tip-Off Tournament in November.  Mohegan Sun will remain the exclusive sponsor of Basketball Hall of Fame Enshrinement weekend, hosting the Class of 2018 for the annual Hall of Fame Induction Celebration and Ring Presentation at their resort in Uncasville, Connecticut.
"In the many years of working with the Naismith Hall of Fame, Mohegan Sun has helped host annual enshrinement ceremonies, honoring some of biggest legends in the game of basketball. The partnership has also grown to routinely showcase incredible basketball games and tournaments at the highest collegiate level inside Mohegan Sun Arena," said Ray Pineault, President & General Manager of Mohegan Sun. "We're proud to have been a part of so many of these great memories and are truly thrilled that it's going to continue well into the future."
In addition to their partnership extension, Mohegan Sun has made a significant contribution to the Basketball Hall of Fame's capital campaign to support complete renovation of the museum. With the donation from Mohegan Sun, the Basketball Hall of Fame has surpassed its $30 million campaign goal; the Hall's campaign will continue however until its scheduled end date of December 2018.  In acknowledgement of Mohegan Sun's generous gift the organization will receive prominent recognition in the newly renovated guest welcome center at the Hall known as 'The Tip Off Pavilion.'
"Three years ago, we set out on a capital campaign to financially secure the Hall's endowment and renovate our museum to the level of quality our Hall of Famers and fans of the game deserve," said Jerry Colangelo, Chairman of the Naismith Memorial Basketball Hall of Fame Board. "Through the generosity of our incredible partners like Mohegan Sun, I'm happy to say we have exceeded our goals. As a team, we won't let up. We are going to continue forward with our fundraising until all who want to participate have that chance by year end. Mohegan Sun has allowed us to dramatically achieve our initial goal and for that we are very grateful."
The capital campaign has been silently making headway over the last three years with generous backing from many in the global basketball community including Junior Bridgeman, Jerry Colangelo, Grant Hill, Mannie Jackson, Michael Jordan, Phil Knight, Nancy Lieberman, George Raveling, Adam Silver and Elaine Wynn, as well as several NBA ownership groups. Notable coaches that have already stepped forward to support the cause include, Steve Alford, Geno Auriemma, Jim Boeheim, Larry Brown, Jim Calhoun, John Calipari, Rick Carlisle, Billy Donovan, Mike Krzyzewski, George Raveling, Bill Self, John Thompson, Roy Williams, Jay Wright and others.
About Mohegan Sun
Mohegan Sun Arena is now ranked consistently among the top venues in the world according to Billboard Magazine, Pollstar and Venues Today. It has won "Casino of The Year" at the Country Music Awards in 2008 & 2010 and in 2013, was voted "Arena Of The Year" at the G2E Global Gaming Conference in Las Vegas.  Mohegan Sun Arena was also ranked among the top 10 arena venues in the nation for 2014, regardless of size. In 2015, Mohegan Sun took home the IEBA award for "Casino of the Year."  Mohegan Sun also won "Casino of the Year" in 2 categories at the 2013 & 2016 Academy of Country Music Awards. For more information on concerts and other great events, visit Mohegan Sun. For information on this week's schedule, call the Entertainment and Special Events hotline at 1.888.226.7711, ext. 27163.
About the Naismith Memorial Basketball Hall of Fame
Since opening its doors in 1959, the Naismith Memorial Basketball Hall of Fame has operated as a 501 c 3 not for profit organization relying on the generosity of others to preserve the legacy of the game. Located in Springfield, Massachusetts, the city where basketball was invented, the Naismith Memorial Basketball Hall of Fame promotes and preserves the game of basketball at every level – professional, collegiate and high school, for both men and women on the global stage.