Two of the greatest comedians will be live in the Uncas Ballroom on June 23rd

UNCASVILLE, CT (April 18, 2018) – Come see The Roastmaster General Jeff Ross and the consummate comedian's comedian Dave Attell when they share the stage as co-headliners of their show Bumping Mics. One stage is probably not enough to contain two of the funniest men in the world, but we're going to try! Jeff Ross & Dave Attell: Bumping Mics presented by Comix will take place in the Uncas Ballroom at Mohegan Sun on Saturday, June 23rd at 8:00pm.
Tickets are $49.00 and $39.00 and go on sale Friday, April 20th at 10:00am through Ticketmaster. Ticketmaster customers may log on to Ticketmaster.com or call Ticketmaster's national toll free Charge By Phone number 1.800.745.3000.  Tickets will also be available at the Mohegan Sun Box Office beginning on Saturday, April 21st, subject to availability.
About Jeff Ross:

Jeff Ross is a respected comedian, writer and producer also known as "The Roastmaster General." Jeff recently produced and starred in the Comedy Central Roast of Rob Lowe.  Jeff's roast victims also include Justin Bieber, James Franco, Charlie Sheen, James Carville and Donald Trump (twice). Jeff's most recent comedy specials are the critically-acclaimed and highly rated Jeff Ross Roasts Criminals, which was filmed inside a maximum security jail, Jeff Ross Roasts Cops, which takes place during ride-a-longs with the Boston Police Department and Jeff Ross Roasts the Border, which was filmed in front of the border fence in Brownsville, Texas.
Jeff's recent acting credits include guest-star roles on Audience Network's Kingdom, ABC's Dr. Ken, Comedy Central's Drunk History, Fox's Grandfathered, The Simpsons, Family Guy and the feature films Flock Of Dudes and Wedding Ringer starring Kevin Hart.
Jeff is also a regular on many animated shows including Mr. Peabody and Sherman, Future Worm, Penn Zero Part Time Hero and as "Hook Foot" on Disney's Tangled TV series.His latest TV venture is Jeff Ross Presents Roast Battle, a popular comedy competition show that recently aired its second season on Comedy Central.
Jeff sits on the board of the New York Friars Club and is involved with the many charitable endeavors including the Scleroderma Research Foundation and the USO, which supports military members and their families. Jeff is originally from Newark, New Jersey but please don't hold that against him.
About Dave Attell: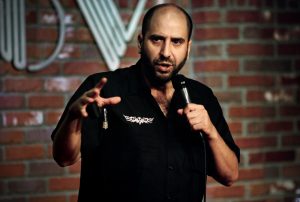 Born in Queens and raised on Long Island, Dave Attell got into stand-up comedy in the late eighties after graduating from New York University with a degree in Film and Television. He is the creator and host of Dave's Old Porn on Showtime, which has featured such talent as Whitney Cummings, Chelsea Handler, Adam Carolla and Daniel Tosh. His stand-up series, DAVE ATTELL'S COMEDY UNDERGROUND and his one hour special, ROAD WORK were featured on Comedy Central and ROAD WORK is streaming on Netflix now!
He was named one of the "25 Funniest People in America" by Entertainment Weekly Magazine. His caustic wit, rapid-fire delivery and his choice of material that can best be described as "very adult" has earned him the reputation as a "comic's comic." But if you ask Attell, he'd say, "I'm just trying to get some laughs and sell some drinks." In 2001, Attell used this love of booze and laughter to create and host the hit series, Insomniac with Dave Attell for Comedy Central. A travelogue show in which Attell goes from city to city looking for late-night fun, The New York Times called the show, "a doubly rare beast, a comedy without rancor and a travel show about the virtues of the American underdog." To Attell, the Insomniac show is more of a cross between Girls Gone Wild and Cops. After four seasons of Insomniac, Attell taped several hour-long Insomniac specials overseas in Japan, Germany, England and Brazil. Once back in the states, he headed out on a thirty-five city theatre tour ending in Vegas, where he hosted a two-hour special for Comedy Central featuring Sean Rouse, Greg Geraldo and Dane Cook, some of the biggest comics in the country.
Dave Attell has made numerous appearances on The Late Show with David Letterman, The Tonight Show with Jay Leno, Late Night with Conan O'Brien, The Howard Stern Show, Last Call with Carson Daly and The Daily Show with Jon Stewart. He also appeared in Chris Rock's cult film Pootie Tang. Other television credits include FOX's Arrested Development, NBC's Ed, HBO, Comedy Central's Tough Crowd with Colin Quinn and his own half-hour stand-up special Comedy Central Presents Dave Attell.
About Comix Mohegan Sun
Comix Mohegan Sun is an independently-owned and operated venue located inside one of the largest, most spectacular travel destinations in the United States. Open every Wednesday through Sunday and serving happy hour until 6:30 p.m., Comix Comedy Club showcases national headliners, superb regional and local talent and offbeat shows; all on a stage built for comedy. Comix Craft Beer Bar & Grill offers 24 local, regional and national craft beers on tap, an excellent bourbon whiskey program, complemented by a full cocktail list and great bar food menu. Comix is the perfect venue for private parties, special events and fundraisers and the place for fans to cheer on their teams on the big screen. Comix also presents the superstars of comedy in the Mohegan Sun Arena and Uncas Ballroom. For hours and more info, call 860-862-7000 or visit www.ComixMoheganSun.com, www.facebook.com/ComixMoheganSun & @ComixMoheganSun.