Barrett-Jackson, The World's Greatest Collector Car Auctions, made history with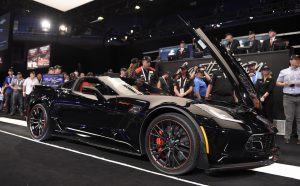 the sale of the last-built C7 Chevrolet Corvette (Lot #3001) and continued to fuel the hobby with a diverse docket of collector vehicles during the 4th Annual Northeast Auction, June 26-29, 2019, at Mohegan Sun in Connecticut. Sales over the four-day event also continued to point to the growing popularity of Resto-Mods and late model performance vehicles. The rise in popularity of Japanese collector cars was also highlighted when a 1997 Toyota Supra Anniversary Edition (Lot #711) sold for a record $176,000, making it one of the top ten vehicles sold. Among the top ten vehicles sold during this year's Northeast Auction, six set new auction records.
In total, 545 vehicles sold for over $21.8 million with a 100 percent sell-through rate, while 470 pieces of automobilia brought in $766,000, and more than $2.8 million was raised through the sale of three charity vehicles, bringing the total auction sales to more than $24 million.
"We're so appreciative of all our guests, sponsors and exhibitors who contributed to this auction and made it such an extraordinary event," said Craig Jackson, chairman and CEO of Barrett-Jackson. "Thanks to everyone's participation and efforts, we hit incredible milestones as we wrote new pages in automotive history. Chief among those was a new charity auction record set by the last-built C7 Corvette. This special moment closed an era for Corvette and also raised critical support for our nation's heroes. We built so much momentum this year in Scottsdale, Palm Beach and the Northeast that we can't wait to top it off in Las Vegas this October."
The top vehicles sold during the 2019 Northeast Auction included:
1. Last-Built 2019 Chevrolet Corvette Z06 (Lot #3001) – $2.7 million (charity vehicle)
2. 2008 Mercedes-Benz SLR McLaren Roadster (Lot #671) – $280,500
3. 2019 Chevrolet Corvette Yenko/SC Stage II Convertible Serial #1 (Lot #663) – $258,500*
4. 1954 Buick Special Custom Coupe "G54″ (Lot #694) – $220,000*
5. 1969 Ford Bronco Custom SUV (Lot #669) – $203,500*
6. 1967 Ford Mustang Eleanor Tribute Edition (Lot #665) – $187,000
7. 2016 Jeep Wrangler Unlimited Custom 6X6 (Lot #654) – $181,500*
8. 1997 Toyota Supra Anniversary Edition (Lot #711) – $176,000*
9. 2017 Dodge Viper GTC ACR (Lot #664) – $172,700
10. 2014 Ferrari California Convertible (Lot #673) – $170,500*
11. 1971 Plymouth 'Cuda Resto-Mod (Lot #685) – $165,000
12. 1967 Ford Shelby GT500 (Lot #667) – $165,000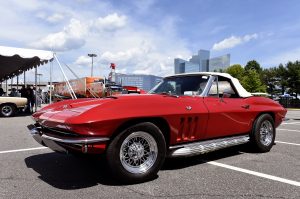 Vehicles from the Vault Portfolio and David Maxwell Collection, crossed the block during this year's Northeast Auction. A total of 47 collector cars from the Vault Portfolio are being sold at No Reserve during three Barrett-Jackson events, including the 2019 Northeast and Las Vegas Auctions, as well as the 2020 Scottsdale Auction. Eight vehicles from the Maxwell Collection also sold during this year's Northeast Auction, including a 1971 Plymouth Cuda Resto-Mod (Lot #685), which hammered in at $165,000 and is among the top vehicles sold during the auction.
"Collector cars are the heart and soul of everything we do," said Steve Davis, president of Barrett-Jackson. "But we've gone a step further to create an immersive lifestyle experience around the auction that's unmatched in this great hobby. We offered terrific symposiums led by top automotive experts and hands-on exhibits. For the first time since its introduction, Ford offered select rides to the public in the adrenaline-pumping Ford GT supercar. Only at Barrett-Jackson can you drive home the car of your dreams, rub shoulders with industry legends and make memories that will last a lifetime."
On Friday, the last-built seventh-generation (C7) Chevrolet Corvette made history when Dan Snyder of Dan Snyder Motorsports purchased it for $2.7 million – a new Barrett-Jackson charity sale record by an automaker-donated vehicle. The entire amount raised from the sale of the Corvette benefited the Stephen Siller Tunnel to Towers Foundation's Smart Home Program. Mr. Snyder also bought the last-production models of the 2018 Dodge Challenger SRT Demon (Lot #3002.1) and 2017 Dodge Viper (Lot #3002) at the 2018 Barrett-Jackson Northeast Auction. To date, Barrett-Jackson has raised over $118 million for charity. Two other vehicles crossed the block to benefit charity during the Northeast Auction:
• 1981 DeLorean DMC-12 (Lot #3000) – $30,000 benefiting the Automotive Technology Academy of the New York-based Rockland BOCES
• 2018 Jeep Wrangler Rubicon Custom SUV (Lot #3002) – $85,000 benefiting NS2 Serves
Barrett-Jackson's Automobilia Auction featured over 470 authentic pieces, including items from the Terry Brannigan and Cedarmore Collections. Rounding out the top five automobilia items sold during the Northeast Auction were:
1. 1950s Chevrolet-Oldsmobile Porcelain with Neon Sign (Lot #8294) – $23,000
2. 1928 Texaco Gasoline Visible Gas Pump (Lot #8282) – $18,400
3. 1954 Mobil Oil Pegasus Animated Porcelain Neon Sign (Lot #7298) – $17,250
4. 1956 Chevrolet Corvette Kiddie Car (Lot #8267) – $17,250
5. Late 1950s Mobil Oil Porcelain with Neon Sign (Lot #7294) – $16,100
For more information on becoming a bidder or to consign a vehicle for the 2019 Las Vegas Auction, visit Barrett-Jackson.com.
Join the online conversation on Facebook, Twitter and Instagram
#BarrettJackson
ABOUT THE BARRETT-JACKSON AUCTION COMPANY
Established in 1971 and headquartered in Scottsdale, Arizona, Barrett-Jackson, The World's Greatest Collector Car Auctions®, is the leader in collector car and automotive lifestyle events, which include authentic automobilia auctions and the sale of high-profile estates and private collections. The company produces auctions in Scottsdale, Arizona; Palm Beach, Florida; at Mohegan Sun in Connecticut; and Las Vegas, Nevada. With broadcast partners MotorTrend (formerly Velocity) and Discovery Channel, Barrett-Jackson features extensive live television coverage, including broadcasts in over 150 countries internationally. Barrett-Jackson also endorses a one-of-a-kind collector car insurance for collector vehicles and other valued belongings. For more information about Barrett-Jackson, visit Barrett-Jackson.com or call 480-421-6694.
ABOUT MOHEGAN SUN
Owned by Mohegan Gaming & Entertainment, Mohegan Sun is one of the largest, most spectacular entertainment, gaming, dining and shopping destinations in the United States. Situated on 185 acres along the Thames River in scenic southeastern Connecticut, Mohegan Sun is home to two unique casinos, 1,600 deluxe hotel rooms, two world-class spas, a golf course, over 80 shops, restaurants and bars as well as three award-winning entertainment venues including a 10,000-seat Arena. Mohegan Sun's attention to detail not only for its guests but for their staff of over 6,000 employees has earned the Great Place To Work certification in 2019. Mohegan Sun is within easy access of New York, Boston, Hartford and Providence and located 15 minutes from the museums, antique shops and waterfront of Mystic Country. More information is available by calling 1.888.226.7711 or visiting mohegansun.com. Connect with us on Facebook, follow us on Twitter and Instagram @mohegansun, view us on YouTube and find us on Snapchat at username MoheganSun.
# # #