WHAT:  The Award winning digital TV series, "Back of House," that gives viewers a unique look into what it takes to operate one of the largest entertainment and resort destinations in the United States, launches season three tonight! The series will feature an all-new episode every Thursday at 8:00pm (EST) through November 14th (six total episodes), and along with each episode debut, viewers can take part in an enter to win contest based on each episode's story line.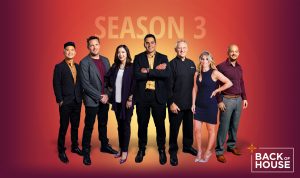 WHEN/WHERE: Thursday, October 10th at 8:00pm (and airing every Thursday night through November 14th) | BackofHouse.TV
IN DETAIL: Introducing new cast members and bringing back a few familiar faces, "Back of House" season three follows the professional lives of six Mohegan Sun employees from various resorts functions, including Creative Events, Culinary, Human Resources, Asian Communications, Public Events, and Nightlife. From planning large-scale VIP events at novelle, (the new ultra lounge venue that opened this past summer at Mohegan Sun) to pushing culinary team members to exercise their creative muscle, "Back of House" reveals how employees transform behind-the-scenes operations into fun for every guest, while demonstrating their collaborative relationships and the "wow" factor that comes with working at one of the world leaders in resort entertainment.
Tune-in and WIN
Every Thursday night, viewers will have the unique opportunity to win up to six awe-inspiring prize bundles centered around each episode and the integrated entertainment resort. Prizes include a custom cake made by Chef Lynn himself, a table at the hottest BBQ Fest of the year, a taste of Southeast Asia and shopping spree, VIP access and bottle service at Mohegan Sun's new ultra-lounge, novelle, and a luxurious stay in Aspire with your very own butler. One lucky grand prize winner will be chosen for a behind-the-scenes tour of Mohegan Sun to experience "Back of House" with the stars themselves.
Episode 1: Birthday Cake Showdown on BackofHouse.TV, tonight at 8:00pm:
Mohegan Sun makes over 7,000 cakes a year. Today, there's a training competition between five dedicated employees. According to Chef Lynn, "We always do more than needed, and I want to see the best of the best." Erica a cake lover, and Jeff, a cake hater, are both recruited to help pick the winner!  See how it all turns out.
ABOUT BACK OF HOUSE
"Back of House" swings the doors of hospitality and entertainment wide open.  It is a trailblazing all-access pass to the action behind the action at Mohegan Sun, one of the world's largest integrated casino resort destinations. Enjoy following fun, dedicated employees as they navigate occasional mishaps in their quests to make each guest's stay a perfect getaway experience. For more information, visit BackofHouse.TV.
# # #