Starring The Goo Goo Dolls, Hanson, Andy Grammer and Dean Lewis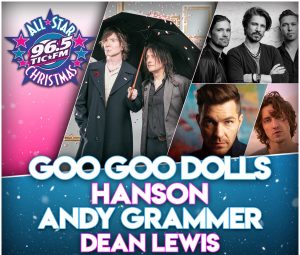 UNCASVILLE, CT (October 15, 2019) – 96.5 TIC returns to Mohegan Sun Arena with their All – Star Christmas show starring the Goo Goo Dolls, Hanson, Andy Grammer and Dean Lewis. All bringing the holiday spirit on Friday, December 13th at 7:30pm.
Tickets are $65.00, $45.00 and $35.00 and go on sale Friday, October 18th at 10:00am through Ticketmaster. Ticketmaster customers may log on to ticketmaster.com. Tickets will also be available at the Mohegan Sun Box Office beginning Saturday, October 19th at 10:00am, subject to availability.
ABOUT GOO GOO DOLLS: Goo Goo Dolls uphold an unbreakable connection to countless fans. Their influence has been fortified by a catalog replete with the unforgettable smashes "Name," "Iris" and "Slide," which were all included in the top 25 of Billboard's "Top 100 Pop Songs 1992 – 2012" chart, as well as numerous other hits such as "Black Balloon," "So Alive" and many more. To date, they've sold 12 million albums worldwide, earned four Grammy award nominations and made history by notching 14 Top 10 hits at Hot AC – "the most of any artist in history." Notably, "Iris" dominated the Hot 100 Pop Chart at #1 for 18 straight weeks. Among 11 full – length records, A Boy Named Goo [1995] went double – platinum, Dizzy Up The Girl went quadruple – platinum, and Gutterflower [2002] and Let Love In [2006] both went gold as Something for the Rest of Us [2010] and Magnetic [2013] bowed in the Top 10 of the Billboard Top 200. 2016's Boxes attracted the praise of People and Huffington Post as Noisey, Consequence of Sound, and more featured them. In 2017, the You Should Be Happy EP spawned another anthem in the form of "Use Me," which quickly generated 3 million – plus Spotify streams. Goo Goo Dolls will be releasing their brand new live album The Audience is That Way (The Rest of the Show) [Live], Vol. 2  on November 23rd.
ABOUT HANSON: In 2017, the trio of brothers who make up Pop-Rock trio HANSON celebrated 25 years of playing music together selling millions of albums, receiving multiple Grammy nominations, and reaching fans world-wide.  To celebrate the landmark year, HANSON launched the "Middle Of Everywhere 25th Anniversary World Tour," alongside a greatest hits collection of the same name, which included the single "I Was Born," that highlighted the undeniable staying power of the band with sold-out concerts across the globe and released a widely praised second holiday album Finally It's Christmas. The year's projects set the course for the next chapter, marked by a continued focus on their music, and dedication to their fan community.
Founded in 1992, brothers Isaac, Taylor and Zac spent their first five years building a fan base performing both Classic Rock 'n' Roll and Soul music and their own original material, to form their own unique blend of harmony-driven, soulful Pop-Rock. After two independent albums, HANSON released their major label debut in 1997, and saw a meteoric rise with the international smash single "Mmmbop" from the album Middle Of Nowhere, which garnered multiple Grammy nominations and five consecutive top 40 singles, including "Where's The Love," "I Will Come To You" and "Weird". Continuing the momentum with their critically acclaimed sophomore release This Time Around, more hit singles and extensive touring deepened the band's connection with their fans, and helped to cement their place as one of the world's leading artists.
In 2003, HANSON created 3CG Records, the decision to form the label was ahead of its time with few high level mainstream artists choosing to self-release, but with the new label the band was able to establish stability in a very turbulent music business, starting a new era for themselves. Their first independent release, Underneath in 2004, was a #1 Billboard Independent Album, and helped establish HANSON as one of the most successful independent bands to date. Since then HANSON has released three more studio albums, The Walk, Shout It Out, and ANTHEM, as well as an ongoing stream of special products and live albums through their label, and toured the world, continuing to focus on cultivating a vibrant global fanbase. The group has sold over 16 million albums to date.
ABOUT ANDY GRAMMER: Since his 2011 self-titled debut, Grammer has consistently delivered stratosphere-size smashes buoyed by impressive range, deft musicality, and endless charisma. By 2019, he scored six chart-topping hits – each certified gold or better by the RIAA. The artist's breakout "Keep Your Head Up" and its follow-up "Fine By Me" are both certified platinum. His 2014 sophomore offering, Magazines or Novels, went gold and yielded the gold "Good To Be Alive (Hallelujah)." During this chapter, the single "Honey, I'm Good" reached quadruple-platinum status globally, emerging as "one of the best-selling songs of 2015."  He maintained this streak on 2017's The Good Parts. The standout "Fresh Eyes" tallied over 500 million streams, achieving a platinum plaque. Not to mention, he consistently sold out headline gigs everywhere.
As he retreated into writing mode in 2018, sharp self-awareness and a healthy sense of pressure pushed him to deliver at the highest level possible. Rather than look outward, he turned inward.  That brings us to Grammer's fourth full-length, NAIVE [S-Curve Records/BMG]. This time around, he changed up the process, incorporating robust instrumentation from the jump. The energy coursed through the first single "Don't Give Up On Me." Featured in the big screen drama Five Feet Apart, the song has already clocked 50 million total streams since release and was just added to the biggest playlist in the world, Spotify's 'Today's Top Hits.' "Don't Give Up On Me" has also penetrated the streaming world on a global level with the track landing on over 30 Spotify Viral 50 charts throughout the world.  With its lithely picked acoustic guitar and handclaps, it immediately empowers on the chant, "Even when nobody else believes, I'm not going down that easily, so don't give up on me."
ABOUT DEAN LEWIS: Dean Lewis, a singer-songwriter from Sydney, released his album A Place We Knew in March 2019.  The album shares songs of hope and heartbreak built around Lewis' passionate voice, deeply personal storytelling and his familiar, raw brand of acoustic songwriting. It tells stories about the seismic change in his life brought on by the success of 2016 debut single "Waves," after which the songwriter found himself traveling the globe and living out of hotel rooms, to the detriment of his relationship at the time.
In 2016, Dean teamed up with producers Edd Holloway and Nick Atkinson, a partnership that not only led to "Waves," "Be Alright" and a significant portion of A Place We Knew, but set in motion a whirlwind 24 months as Lewis went from an unknown to a globally recognized hit maker.  Throughout that period, during which he toured the world and released his debut EP, 2017's Same Kind Of Different, Lewis came to gain a better understanding of who he is as an artist.
"The EP was me throwing things at a wall. I didn't really know who I was. Now I have a good sense of what's me," he states, pointing to three key ingredients that unite his work: "The way I write lyrics, which is very first person; the acoustic guitar; and the rawness. They're the three things that tie it all together."
Mohegan Sun Arena is now ranked consistently among the top venues in the world according to Billboard Magazine, Pollstar and VenuesNow.  Mohegan Sun Arena is consistently ranked among the top three "Arenas in the World for its Size" and top 15 in the "World for All Size Venues." The award – winning venue is the "#1 Casino Venue in the World," "#1 Social Media Venue in the World" and a seven – time national award – winner for "Arena of the Year."  For more information on concerts and other great events, visit Mohegan Sun. For information on this week's schedule, call the Entertainment and Special Events hotline at 1.888.226.7711.