Tickets to the decadent three-day weekend are on sale now!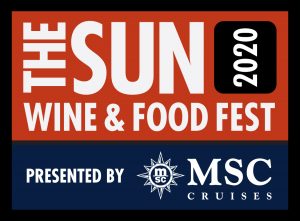 UNCASVILLE, CT (November 4, 2019) – The 17th Annual Sun Wine & Food Fest presented by MSC Cruises – the world's fastest-growing cruise line, offering an enriching cruise experience inspired by European heritage – is back at Mohegan Sun! Starting Friday, January 24th, wine connoisseurs and foodies alike can sip and sample their way through endless vintages and signature dishes, all while welcoming the return of notable showcases like the Bourbon Tasting, the Grand Tasting, Celebrity Chef Dine Around and more. Guests can top off the weekend with an indulgent Sunday Brunch, hosted by top names in the industry. Attendees will also get a "taste" of MSC Cruises' refined, international dining and immersive style of cruising with activations and displays at many events throughout the weekend.
A portion of all proceeds will go to the Channel 3 Kids Camp, who provides fun year-round opportunities to children of all abilities, families and communities through educational and recreational programs. Tickets to all events are on sale now via Ticketmaster at ticketmaster.com and the Mohegan Sun Box Office.
Bourbon Tasting presented by Beam Suntory, Inc.
Get the weekend started early and warm your palate during the Bourbon Tasting in the Earth Ballroom. Guests can mix and mingle while getting a taste of the finest bourbon from Jim Beam, along with tasty selections from Bear's Restaurant Group and a cigar from BoutiqueCigar.com.
The Bourbon Tasting presented by Beam Suntory, Inc. is from 6:00pm to 9:00pm on Friday, January 24th. Tickets are $90.00.
Cigar and Wine Pairing presented by 19 Crimes
New to Sun Wine & Food Fest this year, 40 guests can enjoy an exclusive wine tasting hosted by 19 Crimes in Clay Pipe Cigar Bar, with an appearance by celebrity chef and restaurateur, Rocco Dispirito. Select your favorite varietal and enjoy with a pairing from General Cigar.
The Cigar and Wine Pairing presented by 19 Crimes is from 10:00pm – 11:00pm on Friday, January 24th. Tickets are $50.00 in advance and $55.00 the day of the event. One ticket includes tasting, a full pour of wine and a cigar.
Grand Tasting Preview
Guests can get a sneak peek into one of Sun Wine & Food Fest's signature showcases, the Grand Tasting. This preview takes place in the Earth Expo Center, and guests can taste a variety of wine, beer and spirits while pairing their favorites with delicious dishes from some of the region's highly-rated restaurants. With a glimpse at how celebrity chefs show off their culinary skills, the Grand Tasting Preview is your chance to experience an exclusive preview of the main event.
The Grand Tasting Preview is from 7:00pm to 10:00pm on Friday, January 24th. Tickets are $45.00 for regular admission and $20.00 for designated drivers.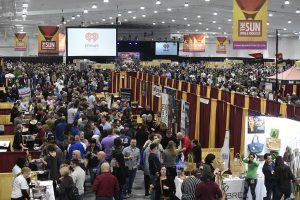 Grand Tasting
At the Grand Tasting in the Earth Expo Center, guests can sample over 1,000 varieties of wine, beer and spirits! Foodies can also purchase signature dishes from some of the region's highly-rated restaurants and the main culinary stage features a day full of celebrity chef demos, presented by Gotham Steel Stack Master.
The Grand Tasting is Saturday, January 25th and has a VIP hour from 11:00am to Noon, with General Admission from Noon to 5:00pm. Tickets are $95.00 for regular admission and $20.00 for designated drivers.
 Vintage Cru
Taste the "best-of-the-best" vintages and get one-on-ones with the winemakers during Vintage Cru in the Earth Ballroom. Wine is available for purchase with shipment directly to your home. Plus, guests can pick up a $50.00 iGourmet gift card!
Vintage Cru is from 4:00pm to 6:00pm on Saturday, January 25th. Tickets are $140.00.
Celebrity Chef Dine Around
Join Mohegan Sun at the signature walk-around event in the Uncas Ballroom and watch the masters at work when over 20 celebrity chefs personally dish out a signature food item paired with a wine, beer or spirit. One of MSC Cruises' very own chefs will also prepare a signature dish paired with an MSC Cruises' cocktail, showcasing the leading cruise line's passion for fresh, authentic cuisine and gourmet international dining experiences found on board its cruise ships.
Celebrity Chef Dine Around is from 8:00pm to 10:30pm on Saturday, January 25th. Tickets are $190.00.
The Saturday Sun & Wine Food Package is the perfect choice for guests interested in the Grand Tasting (including the VIP hour) and Celebrity Chef Dine Around. The $400.00 package includes an overnight stay on January 25th and two tickets to each event.
Celebrity Chef After-Party presented by J. Vineyards
novelle is the after-party headquarters for Sun Wine & Food Fest! Guests can join their favorite celebrity chefs for a night out at Mohegan Sun's newest ultra-lounge, with music by DJ Irie. Doors open at 7:00pm and there is no cover for this event. All guests must be 21+ to attend. For bottle service and reservations, visit the novelle website.
Sun Wine & Food Fest will be brought to life as an extension of an already robust partnership between MSC Cruises and Mohegan Sun, offering guests various benefits, including gaining MSC Voyager's Club Status based on their Momentum card levels. This mirrors the opportunity attendees enjoy at Sun Wine & Food Fest – to try new things and savor an enriching experience. MSC Cruises sails to over 200 destinations, with four ships currently sailing from the U.S. – MSC Seaside, MSC Meraviglia, MSC Armonia and MSC Divina. Once on board, guests will find glamorous and modern design, refined international dining, award-winning entertainment, activities for all ages and the latest in guest-friendly technology. To learn more about MSC Cruises and booking information, visit Msccruises.com.
Stay tuned for more surprises! Additional announcements on our world-class celebration of food and drink are on the way – we're just getting started! For more information about the 17th Annual Sun Wine & Food Fest and hotel packages, visit mohegansun.com.
ABOUT MSC CRUISES
MSC Cruises is the world's largest privately-owned cruise company and the number one cruise line in Europe, South America, South Africa and the Gulf. A game-changer in the world of cruises, the Company has achieved 800% growth in its first ten years, building a global reputation in the industry and one of the youngest cruise fleets at sea. MSC Cruises is headquartered in Geneva, Switzerland.
The MSC Cruises fleet currently comprises 16 ultra-modern, highly innovative and elegantly designed ships, offering an unparalleled holiday experience with always delicious and authentic food, award-winning entertainment, plenty of relaxation, comfortable accommodation, as well as impeccable service and expertise.
Under its ambitious industry-unprecedented €11.6 billion (≈12.7 billion USD) investment plan, the fleet is set to expand to 25 cruise ships by 2027. To date, MSC Cruises has designed six new large ship classes, all prototypes that push the boundaries of marine architecture and design, and an ultra-luxury class with ground-breaking options for guest comfort.
MSC Cruises feels a deep responsibility towards the physical and human environments in which it operates. The Company operates with the greatest respect for the world's oceans and is on an ongoing journey to further develop innovative ways of lowering the environmental impact of its cruise passages.
MSC Cruises' vacation experiences are sold across the globe through a distribution network in 70 countries. The Company employs over 23,500 people worldwide, both ashore and on board its ships. MSC Cruises is part of MSC Group which is comprised of leading transport and logistics companies.
More information at http://www.mscpressarea.com/en_US.
ABOUT MOHEGAN SUN:
Owned by Mohegan Gaming & Entertainment, Mohegan Sun is one of the largest, most spectacular entertainment, gaming, dining and shopping destinations in the United States.  Situated on 185 acres along the Thames River in scenic southeastern Connecticut, Mohegan Sun is home to two unique casinos, 1,600 deluxe hotel rooms, two world-class spas, a golf course, over 80 shops, restaurants and bars as well as three award-winning entertainment venues including a 10,000-seat Arena. Mohegan Sun is within easy access of New York, Boston, Hartford and Providence and located 15 minutes from the museums, antique shops and waterfront of Mystic Country. More information is available by calling 1.888.226.7711 or visiting mohegansun.com. Connect with us on Facebook, follow us on Twitter and Instagram @mohegansun, view us on YouTube and find us on Snapchat at username MoheganSun.
# # #