On Sunday, July 26th with special guest The Wallflowers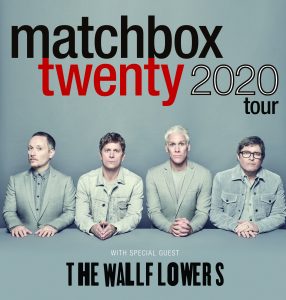 UNCASVILLE, CT (January 13, 2020) – Matchbox Twenty, the multi-platinum, hit-making Pop Rock band, announced today a 50+ date summer tour. Produced by Live Nation, "Matchbox Twenty 2020" will perform at Mohegan Sun Arena on Sunday, July 26th at 7:30pm. All dates will also feature special guest The Wallflowers.
Tickets are $81.00, $71.00 and $61.00 and go on sale Friday, January 17th at Noon through Ticketmaster. Ticketmaster customers may log on to ticketmaster.com. Tickets will also be available at the Mohegan Sun Box Office beginning Saturday, January 18th at 10:00am, subject to availability.
"Matchbox Twenty 2020" is the band's first tour since 2017, when they reunited for the "A Brief History of Everything" tour to mark the 20th anniversary of their RIAA Diamond-certified debut album Yourself or Someone Like You.
Rob Thomas said, "I'm proud to be a part of the greatest Pop Rock band in the world and I can't wait to play with them again. Stepping on stage with Matchbox and sharing those songs with the fans feels as natural as breathing to me at this point."
ABOUT MATCHBOX TWENTY
Matchbox Twenty is Kyle Cook, Paul Doucette, Rob Thomas, and Brian Yale. The group has sold over 40 million records worldwide, and earned multiple chart-topping singles, countless accolades, including five Grammy nominations, four American Music Award nods, and the 2004 People's Choice Award for "Favorite Musical Group."
Fueled by such classic songs as "Real World," "Back 2 Good" and the #1 smash hits "Push" and "3AM," 1996's Diamond-certified Yourself or Someone Like You proved a worldwide sensation and instantly established Matchbox as global superstars. 2000 saw the band release the four-times Platinum Mad Season, containing the #1 singles "Bent" and "If You're Gone."  Matchbox's third release, More Than You Think You Are, also was certified Platinum and featured the #1 hit, "Unwell." 2007's greatest hits compilation album with six new songs, "Exile On Mainstream" yielded yet another #1 track, "How Far We've Come," while the band's most recent album, 2012's North, exploded into the top position on the Billboard 200 release – Matchbox Twenty's first-ever chart-topper and #1 debut.
Furthermore, Rob Thomas has proven to be one of the most highly decorated artists of recent years, receiving three Grammy Awards, 11 BMI Awards, the first-ever Songwriters Hall of Fame Hal David Starlight Award, and two Billboard "Songwriter of the Year" honors for both his chart-topping solo work, as well as collaborations with such legends as Santana, Mick Jagger, and Willie Nelson. Thomas' collaboration with Carlos Santana on "Smooth" was also named the #2 "Most Popular Song Ever" on Billboard's list of the "100 Most Popular Songs Behind 'The Twist.'" He was also named to Billboard's "Top 20 List of Hot 100 Songwriters 2000-2011" at #5 and was the top-ranked artist/songwriter on the list. His fourth studio album, 2019's Chip Tooth Smile (Emblem/Atlantic Records) featured the hits "One Less Day (Dying Young)" and "Can't Help Me Now." Total record sales for his output exceeds 80 million worldwide.
ABOUT THE WALLFLOWERS
Formed in Los Angeles in 1989 by singer-songwriter Jakob Dylan, The Wallflowers have won two Grammy Awards and earned a string of Gold and Platinum albums since their eponymous debut album in 1992.
The Wallflowers released Bringing Down the Horse in 1996, which featured the hit songs "One Headlight," "6th Avenue Heartache," "3 Marlenas" and "The Difference." "One Headlight" received two Grammy Awards ("Best Rock Performance by a Duo or Group with Vocal" and "Best Rock Song") in 1998 and is also listed at #58 in Rolling Stone's list of the "100 Greatest Pop Songs." The Wallflowers went on to release an additional three albums before going on hiatus in 2005.  Dylan then launched a solo career and released 2008's Seeing Things and Women + Country in 2012. Two years later, the Wallflowers reunited with their sixth studio album, Glad All Over.
Jakob Dylan starred in Echo In the Canyon, one of 2019's most successful theatrical documentaries. The film and accompanying soundtrack explored the beginnings of the Laurel Canyon music scene and featured new studio recordings of classic songs by The Byrds, The Mamas & The Papas and others, as recorded by Beck, Cat Power, Eric Clapton, Norah Jones, Regina Spektor, Stephen Stills, Neil Young, and more, all interpreted by, and featuring, Dylan.
Mohegan Sun Arena is now ranked consistently among the top venues in the world according to Billboard Magazine, Pollstar and VenuesNow.  Mohegan Sun Arena is consistently ranked among the top three "Arenas in the World for its Size" and top 15 in the "World for All Size Venues." The award – winning venue is the "#1 Casino Venue in the World," "#1 Social Media Venue in the World" and a seven – time national award – winner for "Arena of the Year."  For more information on concerts and other great events, visit Mohegan Sun. For information on this week's schedule, call the Entertainment and Special Events hotline at 1.888.226.7711.