Collegiate Event to Feature 40 Teams in 45 Games Over 11 Days
Uncasville, CT – The Naismith Memorial Basketball Hall of Fame and Gazelle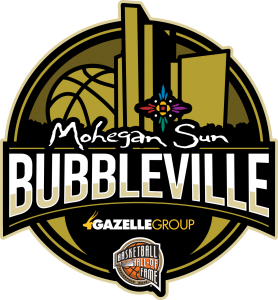 Group today announced the complete schedule of matchups for the season-opening event known as "Bubbleville." Games will be played November 25 – December 5, 2020 at Mohegan Sun Arena in Uncasville, Connecticut.
Bubbleville will house several events relocated and reimagined due to COVID-19 and provides a controlled environment with teams and event staff adhering to tribal, government, and NCAA health and safety protocols and testing requirements. At this time, all games are expected to be played without fans in attendance.
The event will feature 45 games in 11 days, showcasing 40 NCAA Division I men's and women's teams. The schedule will be headlined by several preseason ranked squads including #2 Baylor, #3 Villanova, #4 Virginia, #18 Arizona State and#20 Oregon for the men and #3 UConn, #5 Louisville and #6 Mississippi State for the women. Select games will be available on ESPN networks. All games airing on ESPN networks will also be available on the ESPN App, accessible on computers, smartphones, tablets and connected devices to fans who receive their video subscription from an affiliated provider. All other games will be streamed via FloHoops. The schedule to date is available below, along with broadcast information.
In the coming days, additional games featuring Oregon and Missouri will be added to the schedule on December 2 and 3. Each school will play two games, including one game against each other.
Events taking place in Bubbleville include the Roman Legends Classic presented by Old Trapper, the 2K Empire Classic benefiting Wounded Warrior Project presented by Continental Tire, the HomeLight Classic, the Air Force Reserve Basketball Hall of Fame Tip-Off Tournament, the Air Force Reserve Basketball Hall of Fame Women's Challenge, the Jimmy V Women's Classic and several pods and single game contests developed specifically for Bubbleville.
To learn more, visit https://www.hoophall.com/events/bubbleville or follow @hoophall #Bubbleville on Twitter and Instagram.
About Mohegan Sun Arena:
Mohegan Sun Arena is now ranked consistently among the top venues in the world according to Billboard Magazine, Pollstar and Venues Now and is also consistently ranked top 15 in the "World for All Size Venues." The award–winning venue was named "#1 Social Media Venue in the World" in 2016 and is a seven–time Academy of Country Music Awards (ACM) national award–winner for "Arena of the Year," with the most recent recognition coming in 2019.  For more information and updates on Mohegan Sun Arena, call 1.888.226.7711 or visit Mohegan Sun.
About the Gazelle Group:
The Gazelle Group is a sports marketing firm, specializing in event production and management, client representation, and sponsorship consulting. Gazelle produces numerous nationally-recognized events, such as the 2K Empire Classic benefiting Wounded Warrior Project presented by Continental Tire, the Roman Legends Classic Presented by Old Trapper, the Gotham Classic, the Sunshine Slam, the Bluegrass Showcase, the Holiday Face-Off, and the College Basketball Invitational. For more information on the Gazelle Group, please visit gazellegroup.com.
About the Naismith Memorial Basketball Hall of Fame:
Located in Springfield, Massachusetts, the city where basketball was born, the Naismith Memorial Basketball Hall of Fame is an independent non-profit 501(c)(3) organization dedicated to promoting, preserving and celebrating the game of basketball at every level – men and women, amateur and professional players, coaches and contributors, both domestically and internationally. The Hall of Fame museum is home to more than 400 inductees and over 40,000 square feet of basketball history. Nearly 200,000 people visit the Hall of Fame museum each year to learn about the game, experience the interactive exhibits and test their skills on the Jerry Colangelo "Court of Dreams." Best known for its annual marquee Enshrinement Ceremony honoring the game's elite, the Hall of Fame also operates over 70 high school and collegiate competitions annually throughout the country and abroad. For more information on the Basketball Hall of Fame organization, its museum and events, visit www.hoophall.com, follow @hoophall #Bubbleville or call 1-877-4HOOPLA.
Wednesday, November 25, 2020
| | | | |
| --- | --- | --- | --- |
| 9:00 AM | Men | St. Bonaventure vs. Towson | FloHoops |
| 11:30 AM | Men | Rhode Island vs. Stephen F. Austin | FloHoops |
| 2:00 PM | Men | Virginia vs. Maine | FloHoops |
| 4:30 PM | Men | Florida vs. UMass Lowell | FloHoops |
| 7:00 PM | Men | 2k Empire Classic: Villanova vs. Boston College | ESPN |
| 9:30 PM | Men | 2k Empire Classic: Baylor vs. Arizona State | ESPN |
Thursday, November 26, 2020
| | | | |
| --- | --- | --- | --- |
| 11:00 AM | Men | Rhode Island vs. Towson | FloHoops |
| 1:30 PM | Men | St. Bonaventure vs. Stephen F. Austin | FloHoops |
| 4:00 PM | Men | Siena vs. Massachusetts | FloHoops |
| 7:00 PM | Men | 2k Empire Classic Consolation | ESPN |
| 9:30 PM | Men | 2k Empire Classic Championship | ESPN |
Friday, November 27, 2020
| | | | |
| --- | --- | --- | --- |
| 11:30AM | Men | HomeLight Classic: Virginia vs. Florida | ESPN |
| 2:00 PM | Men | Towson vs. Stephen F. Austin | FloHoops |
| 4:30 PM | Men | Massachusetts vs. Delaware | FloHoops |
| 7:00 PM | Men | Central Connecticut State vs. Maine | FloHoops |
| 9:30 PM | Men | St. Bonaventure vs. Army | FloHoops |
Saturday, November 28, 2020
| | | | |
| --- | --- | --- | --- |
| 10:00 AM | Women | AFR HOF Women's Challenge: Mississippi State vs. Maine | FloHoops |
| 12:30 PM | Women | AFR HOF Women's Challenge: UConn vs. Quinnipiac | TBA |
| 3:00 PM | Men | Delaware vs. Siena | FloHoops |
| 5:30 PM | Men | AFR HOF Tip-Off: Rhode Island vs. South Florida | ESPN3 |
| 8:00 PM | Men | AFR HOF Tip-Off: Virginia Tech vs. Temple | ESPNEWS |
Sunday, November 29, 2020
| | | | |
| --- | --- | --- | --- |
| 9:30 AM | Women | AFR HOF Women's Challenge Consolation | FloHoops |
| 12:00 PM | Men | Massachusetts vs. Iona | FloHoops |
| 3:00 PM | Women | AFR HOF Women's Challenge Championship | ESPN |
| 5:30 PM | Men | AFR HOF Tip-Off: Rhode Island vs. Temple | ESPN2 |
| 8:00 PM | Men | AFR HOF Tip-Off: Virginia Tech vs. South Florida | ESPN2 |
Monday, November 30, 2020
| | | | |
| --- | --- | --- | --- |
| 11:30 AM | Men | Vermont vs. Buffalo | FloHoops |
| 2:00 PM | Men | Siena vs. Liberty | FloHoops |
| 9:00 PM | Men | Boston College vs. St. John's | TBA |
Tuesday, December 1, 2020
| | | | |
| --- | --- | --- | --- |
| 11:30 AM | Men | St. Bonaventure vs. Vermont | FloHoops |
| 2:30 PM | Men | Roman Legends Classic: USC vs. BYU | ESPN2 |
| 5:00 PM | Men | Roman Legends Classic: UConn vs. Vanderbilt | ESPN2 |
| 7:30 PM | Men | Iona vs. Buffalo | FloHoops |
| 9:30 PM | Men | Massachusetts vs. South Florida | FloHoops |
Wednesday, December 2, 2020
| | | | |
| --- | --- | --- | --- |
| 5:30 PM | Men | Vermont vs. Iona | FloHoops |
| 8:00 PM | Men | AFR HOF Tip-Off Springfield Bracket: Drexel vs. Quinnipiac | FloHoops |
Thursday, December 3, 2020
| | | | |
| --- | --- | --- | --- |
| 1:30 PM | Men | AFR HOF Tip-Off Springfield Bracket: Albany vs. Drexel | FloHoops |
| 7:00 PM | Men | Roman Legends Classic Championship | ESPN |
| 9:30 PM | Men | Roman Legends Classic Consolation | ESPN2 |
Friday, December 4, 2020
| | | | |
| --- | --- | --- | --- |
| 4:00 PM | Men | AFR HOF Tip-Off Springfield Bracket: Albany vs. Quinnipiac | FloHoops |
| 7:00 PM | Women | Jimmy V Women's Classic: UConn vs. Louisville | ESPN |
Saturday, December 5, 2020
| | | | |
| --- | --- | --- | --- |
| 2:00 PM | Men | UConn vs. North Carolina State | TBA |