FS1, FS2, Westwood One Radio and BEDN to provide wire-to-wire coverage live from Mohegan Sun Arena, March 5th – March 8th.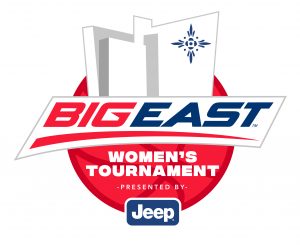 UNCASVILLE, CT (February 23, 2021) – Coverage for the 2021 BIG EAST Women's Basketball Tournament presented by Jeep was announced on Friday, with FS1, FS2, the BIG EAST Digital Network presented by SoFi, available on FloSports, and Westwood One Radio combining to showcase all 10 games. Set for March 5th – March 8th, the BIG EAST will play its conference postseason at Mohegan Sun Arena for the first time after announcing a three-year agreement with the 10,000-seat arena located in southeastern Connecticut back in September.
Action tips off on Friday, March 5th with the First Round. BEDN will stream all three games beginning at 11:00am ET when the No. 8 seed faces the No. 9 seed. Play continues with the 7-10 matchup at 2:00pm, before the 6-11 tilt wraps up Day 1 at 5:00pm.
Friday's 8-9 winner will face the No. 1 seed in the first quarterfinal game on Saturday, March 6th, with tipoff slated for Noon ET. FS1 will provide coverage of the day's first quarterfinal before FS2 picks up the remaining three games, beginning at 3:00pm when the No. 4 seed faces the No. 5 seed. The evening session tips off with the No. 2 seed against the winner of the 7-10 matchup at 6:00pm on FS2, before the No. 3 seed wraps up the four-game day against the winner of Friday's 6-11 showdown. Tipoff for that game is slotted for 9:00pm on FS2.
FS1 will air the final three games of the BIG EAST Tournament, beginning with the Semifinals on March 7th. Saturday's afternoon quarterfinal winners will meet at 3:00pm ET, before Saturday's evening winners square off at 6:00pm. Semifinal winners will battle on Monday, March 8th, at 8:00pm to determine the conference champion and recipient of the BIG EAST's automatic bid into the 2021 NCAA Tournament. Westwood One Radio will broadcast the title game, which is available on terrestrial stations across the country, SiriusXM and westwoodonesports.com. Specific channels will be solidified prior to March 8th.
No fan access is anticipated at the 2021 BIG EAST Women's Basketball Tournament. For more information on the event, click HERE, or follow @BIGEASTwbb on Twitter.
2021 BIG EAST Women's Basketball Tournament presented by Jeep
Mohegan Sun Arena – Uncasville, Connecticut
March 5 – First Round
Game 1: 8 seed vs. 9 seed, 11:00am (BEDN on FloSports)
Game 2: 7 seed vs. 10 seed, 2:00pm (BEDN on FloSports)
Game 3: 6 seed vs. 11 seed, 5:00pm (BEDN on FloSports)
March 6 – Quarterfinals
Game 4: Game 1 winner vs. 1 seed, Noon (FS1)
Game 5: 4 seed vs. 5 seed, 3:00pm (FS2)
Game 6: Game 2 winner vs. 2 seed, 6:00pm (FS2)
Game 7: Game 3 winner vs. 3 seed, 9:00pm (FS2)
March 7 – Semifinals
Game 8: Game 4 winner vs. Game 5 winner, 3:00pm (FS1)
Game 9: Game 6 winner vs. Game 7 winner, 6:00pm (FS1)
March 8 – Final
Game 10: Game 8 winner vs Game 9 winner, 8:00pm (FS1)
All times Eastern
 # # #