Guests are invited to experience a free, horror-themed escape room from October 21st – November 7th
WHAT: To celebrate the launch of MoheganSunCasino.com, Mohegan Sun is hosting a free, horror-themed escape room experience called Sunshine Video.
WHEN/WHERE: Thursday, October 21st through Sunday, November 7th
The Shops at Mohegan Sun
IN DETAIL: Sunshine Video is a horror-themed escape room created for the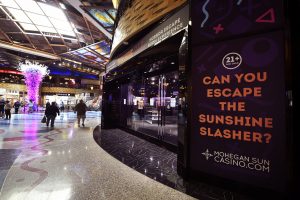 brave and bold. Starting Thursday, October 21st, guests are invited to go back in time to 1984 and find a way to successfully escape the Sunshine Slasher. Sunshine Video will be open Wednesday – Sunday from Noon – 9pm, and from 11:00am – 11:00pm on Sunday, October 31st.
Guests who download the new, real money Mohegan Sun Casino app (iOS and Android) on their phone (or sign up via MoheganSunCasino.com on Mac or PC) will be able to book a trip through the experience for free. At the end of the experience, guests will receive a complimentary drink and have the chance to enter to win a variety of prizes, including a free t-shirt, an iPad and $50,000. Groups will be limited to six people at a time.
A special sneak peek of Sunshine Video will be offered to the media  on Wednesday, October 20th from 6:30pm – 9:00pm. Media interested in attending, please contact Cody Chapman at CodyChapman@mohegansun.com.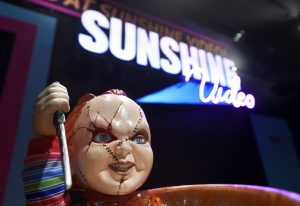 Guests must be 21 and older to participate. Please note, this experience contains strobe lighting effects, theatrical fog/haze, sudden loud noises and scenes of violence.
If you or someone you know has a gambling problem and wants help, call 1.888-789-7777 or visit ccpg.org/chat.
For more information on Mohegan Sun's online gaming, visit mohegansun.com/playonline
###