The iconic Rock group performs at Mohegan Sun Arena on Sunday, November 28th at 3:00pm and 8:00pm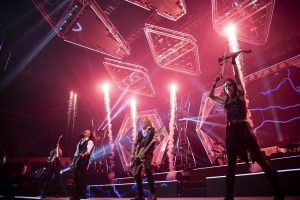 Multi-platinum, progressive Rock group  Trans-Siberian Orchestra (TSO) will bring its highly-anticipated Winter Tour back for 2021 to Mohegan Sun Arena on Sunday, November 28th. In commemoration of the three-time platinum album's anniversary, TSO will offer concert tickets for $25 for 25 hours only on Thursday, November 4th at 9:00am through Friday, November 5th at 10:00am.
Tickets are available via ticketmaster.com and the Mohegan Sun Box Office, subject to availability.
This year's long-awaited tour celebrates the 25th anniversary of the group's landmark album, Christmas Eve and Other Stories, which launched the group to superstardom and spawned the bring-the-whole-family Rock holiday concert tradition that has played to more than 17 million fans nationwide.
Mohegan Sun Arena is now ranked consistently among the top venues in the world according to Billboard Magazine, Pollstar and VenuesNow.  Mohegan Sun Arena is consistently ranked among the top three "Arenas in the World for its Size" and top 15 in the "World for All Size Venues." The award – winning venue is the "#1 Casino Venue in the World," "#1 Social Media Venue in the World" and a seven – time national award – winner for "Arena of the Year."  For more information on concerts and other great events, visit Mohegan Sun. For information on this week's schedule, call the Entertainment and Special Events hotline at 1.888.226.7711.
# # #